This post is sponsored by Hill's. I am being compensated for helping spread the word about Hill's® Food, Shelter, & Love Program®, but The Tiniest Tiger only shares information we feel is relevant to our readers. Hill's Pet Nutrition, Inc. is not responsible for the content of this article.
When we lost Gracey, there was an emptiness in our hearts but also in our home.  Where there was  movement, there was stillness. The sound of paws on the floor, silenced.  When we would relax on the sofa in the evening, there was no gentle kneading of the blanket while she settled in to rest beside us or on our laps.  We were sad and the house felt empty.
June is Adopt-A-Cat Month and two years ago this month we adopted Annie and Eddie from the Grayson County Humane Society.  We weren't planning to bring two cats into our home so soon after losing Gracey but when I saw Annie's photo on facebook, I knew she was the cat for us. We thought there are so many cats that need homes and we have a home, why wait?
The truth is that our home and our hearts needed Annie and Eddie to help the healing process from losing Gracey.  Their energy and love poured into our home and brought light and laughter back. We could hear paws running on the floor. We could see pouncing out of the corner of our eyes.  And when we went to the sofa, we were joined with the comfort of purring and the gentle kneading of paws on the blanket while they prepared to snuggle up next to us.
Cats bring so much joy into your home.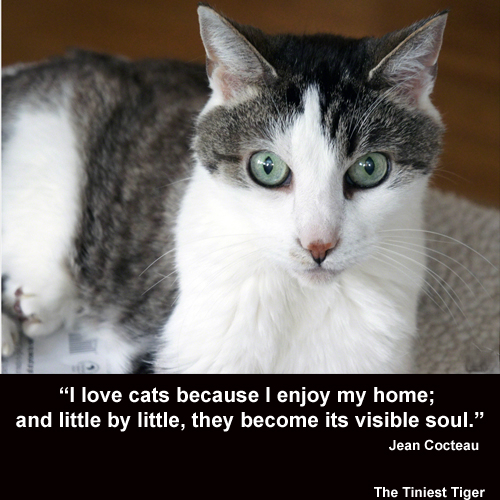 With so many kittens and cats at shelters this time of year, is it time for you to bring some love into your home too?  I know it can feel overwhelming when you are looking for the cat to become your new family member.  But one of the amazing things about cats is, that they will let you know if you just look closely.  Cats have a way of choosing us too, so when you look just keep your mind open and wait until you know which cat is for you.
Remember that most cats are scared and timid in a shelter environment so don't overlook a cat that is hiding or cowering in the corner of their cage.  Just take some time and talk quietly to the cat to help calm them down and see if they respond to you.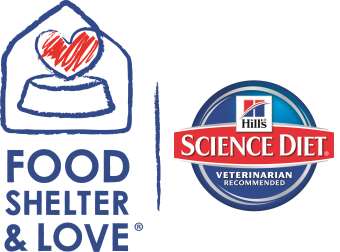 The goal of the Hill's® Food, Shelter & Love® Program is simple:  to provide cats and dogs with superior nutrition that will make them healthier, happier and more adoptable as they wait for their forever home.
Since 2002, the Hill's Food, Shelter & Love program has donated over $280 million worth of Science Diet Brand foods to nearly 1,000 animal shelters, helping over 8 million pets find a new home.  Healthy pets are more adoptable and all pets deserve proper, balanced nutrition.
The ultimate goal is to help pets find their forever homes. Hill's believes that when you adopt, you provide a shelter pet with another chance of finding love.
We believe when you adopt, the shelter pet provides you with another chance of finding love and filling your home with joy.
Use  the Find a Shelter tool to find a Hill's Food, Shelter & Love shelter partner in your area:
http://www.hillspet.com/food-shelter-love/find-a-shelter.html