We are a member of the Tidy Cats Insiders and are being compensated to help spread the word about innovations and updates about Tidy Cats. The Tiniest Tiger only writes about topics that we think will also be of interest to you and all opinions are our own.
Tidy Cats Insiders Peek Into Tidy Innovation Lab
When Annie, Mercy and I were invited to be Tidy Cats Insiders, we couldn't wait to see what was inside the Welcome to Team Tidy yellow box. After all, we cats do our best thinking inside the box!  Once the lid was opened, curiosity got the best of us and we  pounced inside.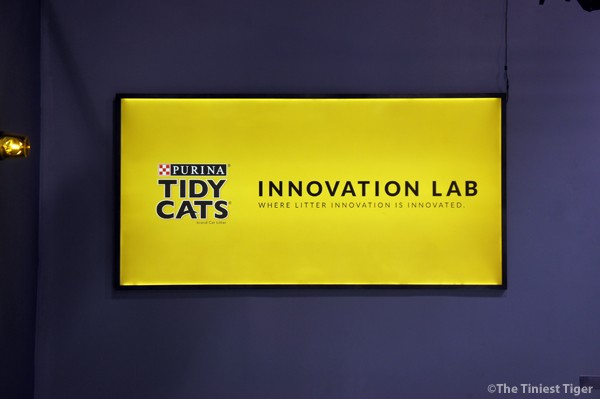 We found ourselves transported to the entry way of the Tidy Cats Innovation Lab!  This is where "Litter Innovation is Innovated"!  Inside this lab are secret scientists conjuring up the next big thing to improve the lives of the most important of all species on our planet….the cat.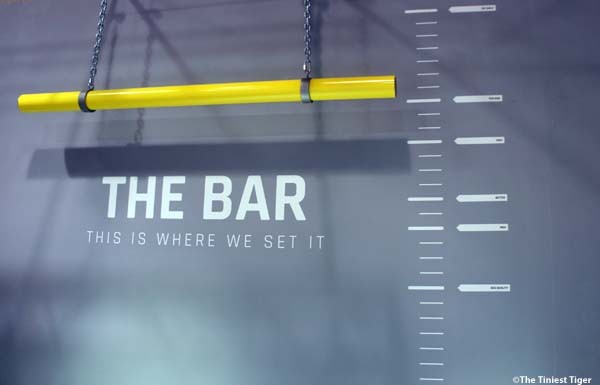 Annie was able to snap this photo of The Bar.  This shows the level of commitment to achieving greatness in cat litter.  You might not be able to read the standards with your eyes, but because we are gifted with the eyes of a cat, we will help you out.
The lowest standard to even be recorded is Dog Quality.  That is understandable.  We love dogs too, but their standards around cat poo leaves a lot of room for improvement.
Next is the Meh category.  While this is ok when seeking a napping area, because cats can sleep anywhere, just ok is not acceptable for cat litter choices.
Better is the next step up.  We don't think this requires further explanation.  Better is just that better, but not best.
Setting the bar a little higher up you will find High.  Setting the bar hight is good for high jumping, something we cats excel in, but our noses require raising the bar a little higher when it comes to our litter boxes.
Too High!  That is the lowest acceptable level for the scientists in the Tidy Cats Innovation Lab.  They must work round the clock until the bar  reaches this setting.
Tidy Cats Litter Innovation in Real Time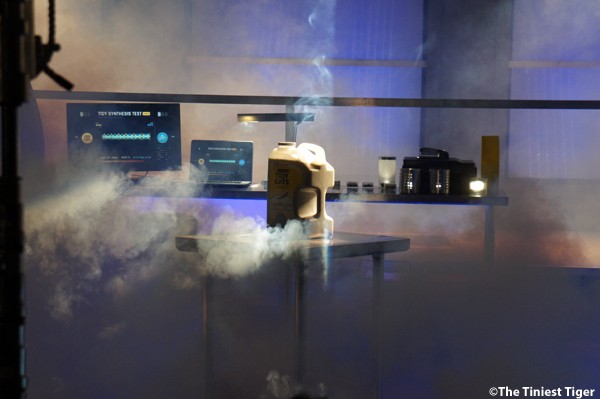 Operating under a cloak of secrecy…well more like a fog… we slipped under The Bar and prowled around the center of The Lab.  There were scientists measuring and meandering around in a fog  the fog seeking insight and enlightenment backed by fact-based data for litter innovation. That bar truly is set Too High!
We noticed a new ingredient in the Tidy Cats displayed on the table.  There was a Post-it Note with Level 09  Testing scratched  written on the yellow paper.  This must be a huge breakthrough because from our observations humans seem to place important information on Post-it Notes.
Level 09  Advanced Innovation + Testing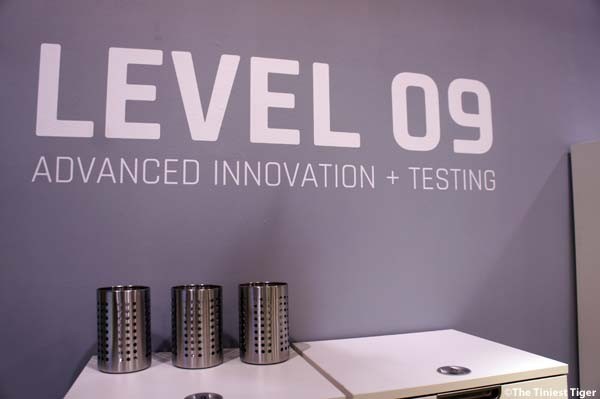 We  took advantage of the opportunity to slink into Level 09 when one of the scientists opened the door in search of coffee.  Inside Level 09 we saw the new odor fighting formulation and in our excitement of meowing and giving high paws all around..we were spotted by the scientists.
We can't really tell you what happened next but the next thing we knew we recall is being debriefed by Dr. Julius Von Pepperbottom.
Dr. Julius Von Pepperbottom Debriefing
Dr. Julius looks quite stern but after the humans left the room, he broke out the Party Mix and gave us solid advice on how to move forward after our exciting experience inside the Tidy Innovation Lab.  Dr. J told us that the best way to embrace the future is to stop dwelling on the past.  He told us:
"You would never think of how your lunch tasted as you are eating dinner. Or dream about your early morning nap as you take your late morning, afternoon, evening or nighttime nap."
Wise words, indeed.
Once we were safely back in our own kitchen, Dr. Julius was right, we went on with our day just like nothing happened.  Cats are the best secret keepers.  Here is the Human Approved Video:
Introducing the Tidy Innovation Lab