"In Kenya an Elephant Nursery exists nestled within Nairobi National Park under the auspices of the David Sheldrick Wildlife Trust, which is overseen by Dr Dame Daphne Sheldrick, whose elephant experience spans a lifetime. This pioneering organisation, which works in partnership with the Kenya Wildlife Service offers hope for any orphaned elephant fortunate enough to be found alive."  – David Sheldrick Wildlife Trust.
The Tiniest Tiger community focuses most of our attention on all cats big and small, but we care for all animals. There is a special place in my heart for the David Sheldrick Wildlife Trust and their work with the Elephant Orphanage in Nairobi.
I was able to visit the orphanage when I was in Kenya and see first-hand the love the keepers have for the babies in their care. Sadly, elephants are being murdered at a rate of 1 every 15 minutes. When mothers are murdered for their tusks, the babies are left traumatized, alone, and at risk. Without the elephant orphanage, these defenseless babies would not be able to survive.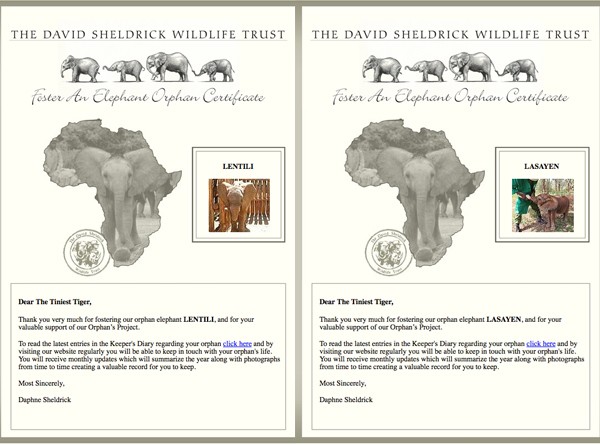 Lasayen's Rescue
All Orphans Reared by DSWT are Integrated into the Wild
"None of this would have been possible without help of many people worldwide, for the rearing an infant elephant is an expensive and long-term commitment during the time it is dependent upon milk and a team of trained carers who represent the lost elephant family and are there for the little elephant until such time as it is comfortable amongst the wild herds and chooses to become independent. The time involved depends entirely upon the personality of each individual and also upon how well the elephant can recall its elephant family, but all the orphans reared by The David Sheldrick Wildlife Trust are "elephants" again and integrated into the wild community by the age of ten, though always in their large elephant hearts will be a corner for the specific humans who were their family in infancy."-David Sheldrick Wildlife Trust
The new 2015 fostering video about the success of Wendi and her wild born baby Wiva show the amazing work far better than any attempt to express to you with words.
Adopt me
Thank you for being a part of The Tiniest Tiger community.  Thank you for caring about all animals, big and small.