Thank you for being a part of The Tiniest Tiger community.  Your support of Triple T Studios enabled our community to reach another goal  to help save the cheetah.  The Tiniest Tiger community is now the proud sponsor of a Cheetah Conservation Fund's Livestock Guarding Dog.
CCF's Livestock Guarding Dogs
CCF's Livestock Guarding Dogs are central to the Cheetah Conservation Funds efforts to mitigate the human-wildlife conflict that threatens the cheetah.  The Anatolian shepherd and Kangal dogs, that are raised and bred at CCF Namibia headquarters, are placed with Namibian farmers. There specially trained dogs protect livestock from cheetah attacks, barking loudly whenever the see a cheetah or other predator scaring the cats away.  Farmers no longer need to kill cheetahs to protect their livestock and their livelihood.
The Livestock Guarding Dog program has been tremendously successful. Most farmers with dogs in place report 80% to 100% reduction in livestock kills by not only cheetahs but other predators too.  Farmers are eager to adopt  dogs and use this livestock management technique. Demand currently exceeds available guarding dogs so there is a long waiting list for dogs.
The Tiniest Tiger is a Proud Sponsor of a CCF Guarding Dog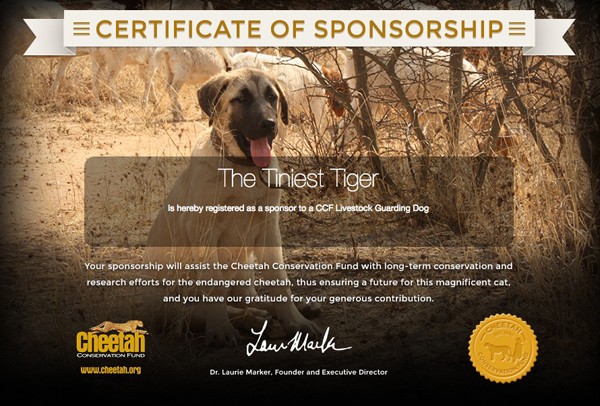 Thank to your support of Triple T Studios, we are able to partner with CCF by sponsoring a livestock guarding dog. Our donation helps cover the costs of caring for and raising a dog including food, vaccinations, new-owner support, veterinary care and long-term monitoring.  The donations also supports training programs for the farmers.
Continue Support for Amani
In addition to our sponsorship of a livestock guarding dog, The Tiniest Tigers is renewing our support for Amani, who you met last year on our first #GivingTuesday celebration.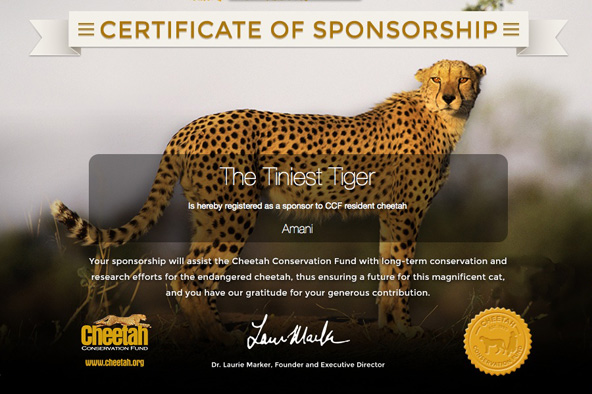 Amani, meaning Peace in Swahili, was caught by a farmer in the  Khomas Hochland area (east of Windhoek) when she was about one year old.  They do not know what happened to the rest of her family as she was far too young to be on her own.
The farmer gave the young cheetah to the Amani Lodge near Windhoek where she was kept as a companion for their tame cheetah.  The two cats never got along and after a year, it was decided that it would be better to send Amani to CCF.
Amani is a true testament to the survival of the cheetahs.  She was slow to acclimate to her new surroundings at CCF but once she found her way, she is thriving.
Thank you from the bottom of our hearts for your support.  Our community continues to show that small paws united can make a big difference.   We couldn't fit all of our good news  into one post so we will be sharing updates on our support for global conservation in our next post.