Saturday, we decided to cut the clutter  in our house.  We try to keep things in order, but even with the best of intentions, things seem to accumulate.  We began in the kitchen cleaning out all the drawers.   This seemed to be of particular interest to Annie.   She stayed right beside Paul while he sorted and organized the cookie sheets and cooling racks.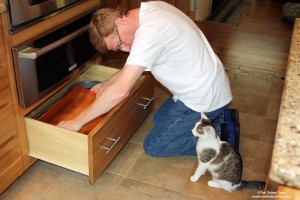 Annie Takes Over
Annie kept Paul company the entire time he worked in the kitchen. But when he got to the drawer where we keep all the place mats and napkins, she decided  she better take over.  Annie had her own thoughts on the way the drawer should be organized.  Paul did his best to  satisfy his feline inspector.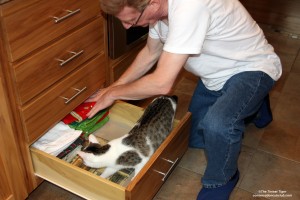 Eddie Takes a Break
Eddie  was not as interested as Annie in the cleaning of the kitchen.  He decided to retreat to the top of the Cat Power Tower for a Saturday afternoon power nap. He needed to save up his energy for his late night marathon play sessions.  As you can see, he was serious about this cat nap.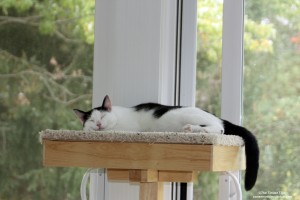 Gracey's Chow Jar
While clearing out the cupboard where we keep all of the storage containers and all of the cats' food and dishes, I found Gracey's Chow Jar.  It somehow was hiding in the back of the cupboard behind various water bottles and food storage containers.  I saw that jar, about a third full with Gracey's chow she loved to chomp and my heart sank. I pulled the jar out , held it close to me and broke down all over again.  Sometimes it is the little things that hurt the most.
I couldn't bring myself to empty that jar.  I placed it on the counter and stood back so Paul could see what I found.  I said, I know it is silly, but I just can't empty this jar today.  He  simply said, ok.  Then paused and said, I can't do it either.  Let's just keep it a while longer.  Remember there are no rules in the grieving process.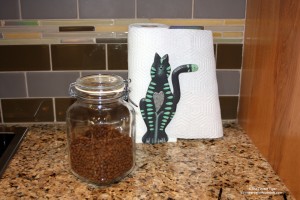 We kept working and didn't say anything for a bit. When I finished organizing the cupboard, I placed Gracey's chow jar back on the shelf beside Annie and Eddie's and Maggie's jars. I don't know why, I just did. Paul smiled at me and we moved on to the dreaded spice cupboard.
Maggie Knows Change Isn't Easy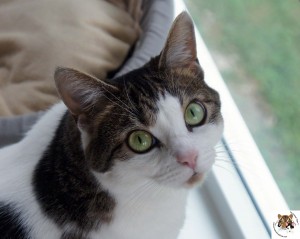 Maggie knows that change isn't easy. She is not adjusting very well to living with Annie and Eddie. We are taking it easy and slowly trying to get Maggie to accept sharing the house but she doesn't seem to like the thought of this. We all have work to do.
Don't miss out on The Tiniest Tiger News :
Posts you might like