Small Paws United Can Make a Big Difference
This Giving Tuesday I am happy to tell you that The Tiniest Tiger's Conservation Cub Club contributed to four non-profit organizations that work tirelessly to help conservation efforts for lions, cheetahs, elephants and kittens. We donated to help Freya, a kitten in the care of our friends at Kitten Associates,  contributed to a cutting edge platform to help the conservation of lions, sponsored a cheetah named Amani at the Cheetah Conservation Fund in Namibia and adopted an elephant orphan named Lentili, living at the David Sheldrick Wildlife Society's Elephant Orphanage just outside Nairobi.
These donations were made possible by your support of Triple T Studios. Thank you so much for your support and for caring about all animals big and small.
For Freya at Kitten Associates
Freya is a tiny kitten with a very rare birth defect called a rectovaginal fistula which means she has an abnormal connection from her rectum going to her vagina.  Freya also has no tail, deformities in her vertebrae and bowed back legs.  When she runs, Robin says she looks something like a frog/bunny and when she walks she looks more like a polar bear.
One thing is for sure, she is adorable and much loved already by Robin at Kitten Associates and  those who have joined her facebook page For Freya. To learn more about Freya and her upcoming surgery visit For Freya.
The Lion Identification Network of Collaborators (LINC)
The Lion Identification Network of Collaborators (LINC) will be a cutting-edge open platform for lion data aggregation and identification. LINC has the potential to revolutionize the way the scientific community reports and accesses data. LINC will generate a rich source of information from basic data to broad scale lion population patterns and migratory corridors that can then be shared widely to aid conservation efforts across all of East Africa.
LINC's development, although spearheaded by Lion Guardians, is a collaborative effort with lion researchers across East Africa and software developers around the world. The software development will be led by IEF R&D in the USA. LINC has raised over $52,000 of the $60,000 needed to launch this project. You can find more information about LINC by clicking here: LINC
Make "LINC" a Reality from Lion Guardians on Vimeo.
The Cheetah Conservation Fund
The cheetah is Africa's most endangered big cat. We've lost over 90 percent of the world's population of wild cheetahs in the last 100 years, and if we don't help make changes today, we could lose the cheetah forever. As the world's leading organization dedicated to saving the cheetah in the wild the Cheetah Conservation Fund  offers a number of ways to help the cheetah win the race against extinction.
One of the ways you can help is my sponsoring one of the cheetahs that calls CCF home.  The Tiniest Tiger community sponsored a cheetah named Amani.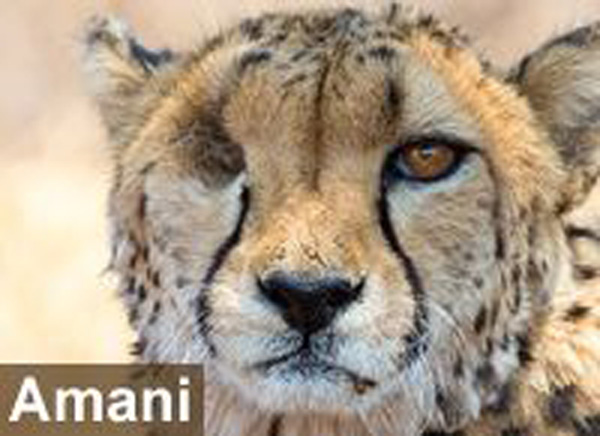 Amani, meaning Peace in Swahili, was caught by a farmer in the  Khomas Hochland area (east of Windhoek) when she was about one year old.  They do not know what happened to the rest of her family as she was far too young to be on her own.
The farmer gave the young cheetah to the Amani Lodge near Windhoek where she was kept as a companion for their tame cheetah.  The two cats never got along and after a year, it was decided that it would be better to send Amani to CCF.
Amani is a true testament to the survival of the cheetahs.  She was slow to acclimate to her new surroundings at CCF but once she found her way, she is thriving.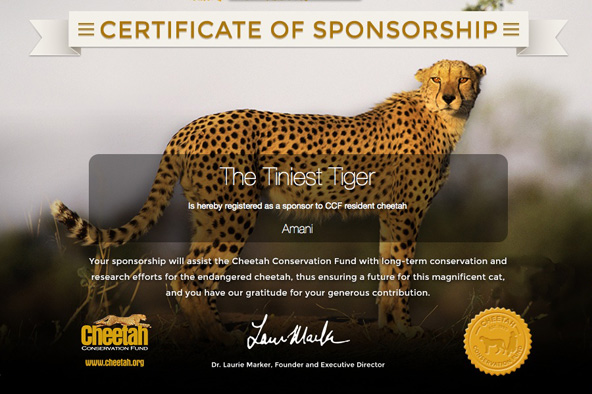 To learn more about the work of the Cheetah Conservation Fund click here:  Cheetah.org
The Orphan's Project at the David Sheldrick Wildlife Trust
At the heart of the David Sheldrick Wildlife Trust's conservation activities is the Orphans' Project, which has receivved world-wide acclaim through its highly successful elephant and rhino rescue and rehabilitation program. The Orphans' Project exists to offer hope for the future of Kenya's threatened elephant and rhino populations as they struggle against the threat of poaching for their ivory and horn, and the loss of habitat due to human population pressures and conflict, deforestation and drought.   The David Sheldrick Wildlife Trust has successfully hand-raised over 150 infant elephants and has accomplished its long-term conservation priority by effectively reintegrating orphans back into the wild herds of Tsavo.
I had the privilege of visiting the elephant orphanage just outside of Nairobi to see first-hand their great work.  I think this video captures the heart of the orphan's project.
To learn more about fostering a baby elephant for a holiday gift click here: Foster An Orphan