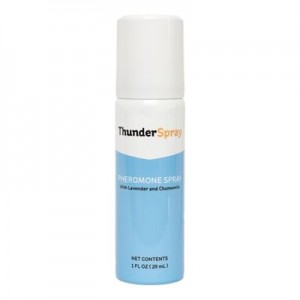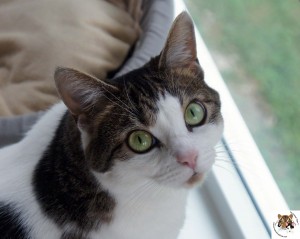 Maggie Needs a Little Help to Relieve Her Stress
Maggie is still having a tough time settling into our home. We have tried everything to ease her into living with the other cats but she still does not seem to be able to relax and acclimate to her new habitat. We give her as much space as possible and even isolate her to spend time away from Annie, Eddie and Mercy but she is still restless and unhappy.
We  tried the slow introduction as you might recall.  That worked for a bit.  There was even hope that they would all get along but  as Maggie grew more comfortable in our home, she grew more intolerant of the kittens.  Then Maggie decided she didn't like Eddie very much.  I  caught her growling at him while he was asleep in his bed, ears back, ready to pounce.
So we went back to the beginning and tried the slow introduction all over again.  Hoping that we could make some progress and even if they weren't best friends, they could at least all live under the same roof without the constant threat of fur flying….literally.
Maggie is Not Alone.  24% of All Cats Suffer from at Least One Anxiety or Fear Issue
The 2012 Thundershirt Cat Anxiety Survey analyzed the cat anxiety problem, including the size, scope and possible solutions. This survey was of the general cat population in the United States. The survey was taken in June, 2013, 1000 cat owners with 1727 cats were surveyed. The respondents were spread across the USA geographically and covered a wide variety of cat breeds.  This sample size is statistically representative of the overall cat population  in the USA.
The survey found that 24% of all cats suffer from at least one anxiety or fear issue, around 22.5 million cats in the USA alone. Over 20% of all cats suffer from multiple anxiety and/or fear issues.
67% of all cats suffering from anxiety, or around 15 million cats in the USA, are not treated in any way for their anxiety or fear.
39% of cat owners do not feel that treating the problem is necessary
34% of owners do not think  there are any viable solutions for their cat's anxiety
11% of cat owners felt the available solutions are too expensive.
In Maggie's case, she has lost her human and experienced a move along with going from being the only cat in a one person household to being in a multi cat household with two humans.
39% of cats who have experienced a move also experience  anxiety or fear
30% of cats who have had a new human join the household experience anxiety or fear.
Because the Thundershirt worked so well for Gracey, we thought perhaps ThuderSpray might work for Maggie.
ThunderSray is a Calming Pheromone Spray
ThunderSpray for Cat
 mimics a mother's natural pheromones and provides soothing fragrances of lavender and chamomile. The spray can be used as an area spray or sprayed directly onto the ThunderShirt to allow the calming pheromones and fragrances to continue to release for an extended period of time. According to Thunderworks.com, ThunderSpray is good for vet visits, crating, car travel, fear of thunder, pet and owner separation, reactivity to other animals or people, general fearfulness and many other issues.
This seemed to have Maggie's fears covered.  We sprayed the blankets where she likes to sleep and inside her large crate that we use to help her feel protected from Annie and Eddie when they are allowed in the sunroom.  Maggie seemed to like it right away and she walked over to smell her blankets.  She curled up and seemed to relax.
Annie and Eddie were pouncing and playing around the sunroom and we didn't have any hissing or growling from Maggie for the first time.  We are cautiously optimistic.  It is too soon to tell, but we will keep using ThunderSpray in the hopes that it will bring some comfort to Maggie.
Rather than medicate her with anti-anxiety drugs, we may decide to re-home Maggie with another of Marie's friends where she can be the only cat in the home. Ultimately, we want Maggie to be happy and live a good life.  Paws crossed for ThunderSpray.
Don't miss out on The Tiniest Tiger News :
Related articles