As you know, Friends of The Tiniest Tiger enthusiastically participated in the Iams Home 4 the Holidays campaign by posting comments here and by uploading photos to our The Tiniest Tiger Facebook page. You can see The Tiniest Tiger's participation and  all of the wonderful comments by clicking here.
So I was super excited when we received this nice note from our Friends at Iams;
"As the 2010 Iams Home  4 the Holidays pet adoption campaign has come to an end, we wanted to give a HUGE thank you to you and your The Tiniest Tiger's Conservation Cub Club readers for helping make this year another success! Without your support, we couldn't have saved the lives of more than 1.1 million homeless animals!
1,125,667 animals were adopted between Oct. 1 and Jan. 4 through more than 3,500 animal organizations from around the world.
Forever homes were found for:
593,146 dogs
509,470 cats
23,051 other animals
On top of that, we are happy to report that IAMS is donating 5,000,000 meals to all of the Iams Home 4 the Holidays participating animal organizations! This was all made possible through retail purchases and online engagement from animal lovers like you!"
Friends we can be super proud that we united our paws and provided 32,375 MEALS for our Cousins in Need!
Super Hurrah!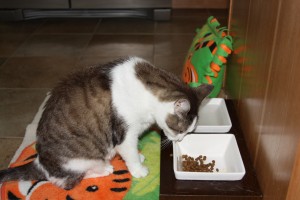 Now as you know, we don't only eat around the holidays, we need to eat every day. And eating is an important part of any Cat's life.  In order for us to stay healthy and mischievous, we need proper nutrition.
Our Friends at Iams told me  a  national survey[1] revealed that only 10 percent of U.S. pet owners take the age of a cat or dog into consideration when determining which formula to feed their pet. So Iams is encouraging Americans to make 2011 a healthier year by feeding pets a life stage specific diet, like Iams Premium Protection.
I need to follow a low allergy diet and I also have diabetes, so my parents are super careful about my meals and snacks.  Sometimes too careful if you ask me, but I know it is for my own good. But this got me to wondering how many of my Friends also eat a special diet and/or for specific health concerns or for your age?
Then I wondered how we decide which food, when and why!  Dr. Katy Nelson, DVM explains in the following videos:
For Kittens:
[youtube]http://www.youtube.com/watch?v=QIdB2Nf4DFY[/youtube]
For Young Cats and Dogs
[youtube]http://www.youtube.com/watch?v=4I0R4PFc7jg[/youtube]
For Mature Cats:
[youtube]http://www.youtube.com/watch?v=mQL_JQelWvg[/youtube]
Whoa! Didn't that Cat look just like my cousin Mercy?  But he isn't mature in his eating or behavior.  hahahahaha.  Seriously, this is both interesting and important.
The new year is when our pet parents talk about getting themselves in better shape by following a healthier diet.  Maybe it is time that we do the same.
I am super curious now and am wondering, do you  eat age appropriate?   If you don't now, do you think you might make a change?
[1]Online survey conducted among nationally representative sample of 1,006 randomly-selected adults aged 18 and over residing in the U.S. via Ipsos' U.S. Online Express Omnibus. Survey was completed October 22-25, 2010. Margin of error +/-3%.