June is Adopt-A-Cat Month
June is Adopt-A-Cat Month®, the American Humane Association's outreach effort to find more homes for shelter cats and kittens.  Spring is "kitten season" when thousands of newborn kittens join the millions of cats already waiting in shelters for their forever homes.  Last year we adopted Annie and Eddie from Grayson County Humane Society after seeing Annie's sweet face on Facebook.
We are preparing to celebrate Annie and Eddie's first anniversary of their adoption day!   It is so hard to believe that a year has gone by already.  Our little kittens have grown up to be young cats and they are still just as sweet as they were the day we brought them home.
Here is the first photo that I took of Annie at home.  I love this photo because it captures Annie's personality just perfectly.  You can see her sweetness but also just a touch of mischief.
And here is little Eddie's first photo at home.  I love this photo of Eddie because it too captures Eddie's personality.  Eddie is super curious but cautious. Eddie likes to assess the situation first and only when he has observed and feels comfortable will he move closer  to the center of the action. Eddie prefers to let Annie go first and Annie is happy to oblige.  Annie has no fear and she is protective of her brother.
And here we are one year later.   Annie, super sweet, friendly and outgoing.  Annie loves to give nose taps and to snuggle.
And Eddie, super sweet, reserved and prefers not to be kissed on the head.  Well, we try to honor that request but sometimes we just can't control ourselves and we kiss him anyway.  Eddie loves to play and play and play….. at night.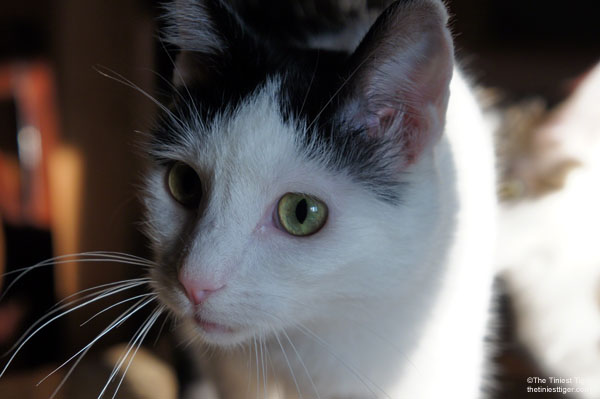 Are You Ready to Open Your Heart and Home To a New Family Member?
If you have been thinking about adopting a new family member into your home, there is no time like the present.  So many cats need homes and are ready to give you unconditional love in return.  We thought we would wait longer after losing Gracey, but our home felt so empty and we knew that Annie and Eddie were waiting for their forever home.   We adopted them during Adopt-A-Cat Month and we are so happy we didn't wait.  They brought joy back into our house and helped us heal our broken hearts.
Cats Ready for Adoption at Grayson County Humane Society.
We checked in on Grayson County Humane Society for Adopt-A-Cat Month.  We wanted to share this video of their cat gathering room where the cats waiting for their forever homes get love and attention from the volunteers at the shelter.   Donna and her staff do a great job socializing the kittens and Annie and Eddie are proof of their amazing work.
Did you fall in love with one of the cats in the video?  Transportation can be arranged to help bring your new family member to you or even meet you part way.   If you would like to learn more about the cats available for adoption at Grayson County Humane Society click here: GraysonHumane.org 
Tell them that Annie and Eddie sent you.
This post is sponsored by BlogPaws. I am being compensated for helping spread the word about Adopt-a-Cat month, but The Tiniest Tiger only shares information we feel is relevant to our readers. BlogPaws is not responsible for the content of this article.