Triple T Studios creates Fashion with a Passion.
The Tiniest Tiger's Triple T Studios designs handbags and accessories as stylish and adaptable as a cat.  The Tiniest Tiger line has proprietary feline finesse quilted right into the fabric for a subtle yet cool cat appearance. These bags don't scream Crazy Cat Lady but whisper I am a Cat Person.
The Tiniest Tiger Hipster is the very same bag that rocked the red carpet for the 2012 Academy Awards Celebrity Swag and was chosen by The Humane Society of the United States to be a gift to the presenters at the prestigious 2012 Genesis Awards. The Tiniest Tiger Tote will be on the red carpet this September as part of the 2012 Emmy Awards Celebrity Swag.
Triple T Studios will launch the "Gracey" Accessories line summer, 2012 and plan to expand the product line to include a collection for dog lovers too.
Triple T Studios is dedicated to producing products locally to help sustain and create jobs.  We are also dedicated to supporting both global conservation programs as well as domestic cat programs.  We create fashion with a passion.
We need your vote and the best news is we are only asking you to vote 1 time! Super Hurrah!
Here is how to Vote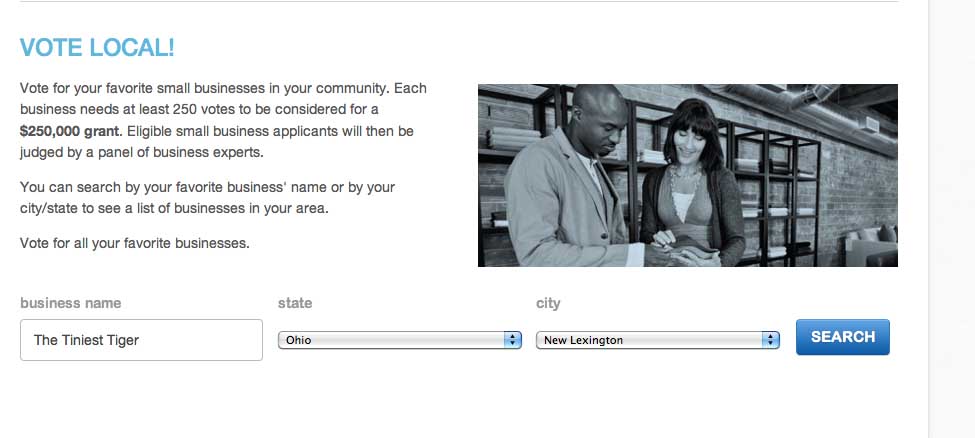 Go to the Mission:Small Business site  http://missionsmallbusiness.com
Log in with email or with facebook
Type in business name: The Tiniest Tiger
State: Ohio
City: New Lexington
Click on Search
When The Tiniest Tiger appears, click Vote.
You can share with your friends if you would like.
The grant would enable Triple T Studios to expand its product lines into retail distribution and further develop online sales that will create marketing, shipping and distribution jobs in our Appalachian hometown and ultimately provide support to global conservation programs.
Thank you so much for your consideration.