Purina Provides Welcome Kits to Residents with Cats in Domestic Violence Shelters
In recognition of Domestic Violence Awareness Month, Urban Resource Institute (URI) and Nestlé Purina announced on October 21, that they are joining forces in support of URIPALS— People and animals Living Safely.  The program is New York City's first initiative to allow victims of domestic violence to enter shelters with their pets.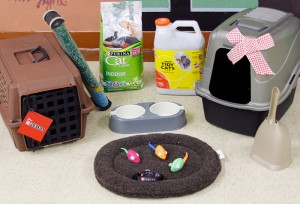 Purina is donating much-needed welcome kits and educational materials for families entering URI's largest domestic violence shelter. During this  six-month pilot phase, URIPALS is accepting families with cats and smaller animals into its shelter, and plans to expand the program to include dogs in December.
This marks a unique and important collaboration between one of New York City's largest domestic violence service providers and a leader in the pet care community.  URI and Purina want to raise awareness about the impact of abuse on the whole family, including pets, expediting escape and recovery.
"When victims of domestic violence flee abusive situations, they are often forced to uproot their entire lives, leaving behind key belongings and supplies," said Nathaniel Fields, President of URI. "Our goal at the Urban Resource Institute is to provide survivors—including pets—with the resources and services they need to rebuild stable, secure lives. We are grateful for Purina's support of URIPALS, which will provide critical supplies to ensure that families entering shelter with their pets have the resources they need to recover together after escaping abuse."
Keeping Pets and Families Together
"We are proud to support the Urban Resource Institute in its mission to provide comfort to victims of domestic abuse and their pets," said Michael Kotick, senior brand manager, Purina. "At Purina we believe people and pets are better together, and the strong bond between pet owners and their pets can prove to be beneficial no matter what the circumstances."
Purina's welcome kits during this phase of the program will be tailored to cats, including items such as food, toys, crates, and other accessories. Purina is also donating a year's supply of food and litter to families upon leaving the shelter. In addition to these welcome kits, families will receive educational materials designed to guide them in best practices for caring for their pets.
Urban Resource Institute
Urban Resource Institute (URI) is a 501(c)(3) non-profit organization that provides comprehensive, holistic, and supportive human services programs that help individuals and families in the New York metropolitan area overcome obstacles and better their lives. With a rich 32-year legacy of social service research and expertise, deep community relationships, and a flexible, innovative approach to program development and service delivery, URI is uniquely equipped to provide solutions to the challenges affecting New York's most vulnerable populations. URI's hands-on programs for victims of domestic violence, the developmentally disabled, and people struggling with addiction and substance abuse are specifically tailored to meet the needs of the individual, while advocacy and community outreach initiatives build wider visibility and support for the issues that have an impact on our clients' quality of life and New York's urban communities. In June 2013, URI launched a pilot program called URIPALS-People and Animals Living Safely. It is the first initiative in New York City to allow victims of domestic violence to enter shelter with their pets.
About Nestlé Purina
Nestlé Purina PetCare Company is a global leader in the pet care industry and promotes responsible pet care, humane education, community involvement and the positive bond between people and their pets. The North American headquarters for Nestlé Purina is located at Checkerboard Square in St. Louis, Missouri. Nestlé Purina is part of Swiss-based Nestlé, the world's leading nutrition, health and wellness company.
Don't miss out on The Tiniest Tiger News :
Related articles