The Red Carpet Cat Emmy Event Almost Here!
I am super excited to tell you about the upcoming #RedCarpetCat Twitter Party where I will be tweeting live from Beverly Hills from the Emmy Red Carpet Celebrity Gift Suite. RSVP today so you don't miss out on all the fun and prizes! You will have lots of chances to snag your own swag, in fact, prizes will be given away every 10 minutes during the event.
I am pleased to tell you that once again the party will be hosted by EventBarkers and they have a fun filled, action packed party planned out for us. We are all busy finishing up the final details to make sure you enjoy every minute.
The 2012 Emmy #RedCarpetCat Twitter Party has been made possible by our super terrific sponsors that love all animals as much as we do.
A big thank you to the ASPCA, Bissell, Hill's Pet Nutrition, Iams and World's Best Cat Litter!
Triple T Studios Introduces the Canine Cool Hipster with puppy appeal!
Triple T Studios debuted The Tiniest Tiger's bags with feline finesse quilting earlier this year at the Red Carpet Celebrity Gift Suite honoring the Academy Awards. You can read more here: The Tiniest Tiger Prepares to Walk the Red Carpet. The Tiniest Tiger Hipster was such a huge hit at the event. So much so that the Humane Society of theUnited States chose the Hipster to be one of the gifts for the presenters at the prestigious Genesis Awards!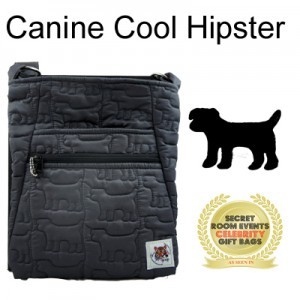 Just in time for the 2012 Emmy Red Carpet, Triple T Studios is proud to introduce the brand new Canine Cool Hipster with puppy quilting. This is the same bag that will be rocking the red carpet lounge along with the new The Tiniest Tiger Tote bag. And you have a chance to snag your own swag , the very same items the celebrities will be receiving during the #RedCarpetCat twitter party.
And to make this party even more exciting, the bags are stuffed full of feline and canine savings and fun!
The Triple T Studios Bags are Filled with Canine Cool and Feline Fun
Whether you choose Canine Cool or Feline Finesse, your bag will come with a special gift from our friends at the ASPCA. For my cat friends, I am so happy to tell you that the ASPCA has chosen one of my most favorite toys ever,even from my kittenhood, the fling-ama-string! I know you are wanting to scratch the sofa right now just thinking about this. And dogs, there is a special secret item for you too.
Inside each bag there is a sample of Stomp'N Go™ to help us clean up our messes. My parents use these and trust me, when I am a little stinker it really helps restore tranquility in our habitat.
Dogs will be treated to Hill's Science Diet Ideal Balance Jerky Strips and Ideal Balance Fruity Snacks with Cranberries and Oatmeal. Don't worry, cat will be dining on Hill's Science Diet Ideal Balance Grain Free Chicken & Potato Dinners.
All cat and dog bags will include two gifts from Iams! A sporty ballcap with the Iams Home 4 the Holidays log with dog and cat silhouette inside a heart logo. The hat is a beautiful green too. There is also an Iams bandana to spruce of your wardrobe. There is an important insert about how you can help feed orphaned dogs and cats by participating in the Digital Dish Drive, Iams Lifelong Rewards, and Bags 4 Bowls.
World's Best Cat Litter is 100% Natural with 110% Performance. Inside every bag is a coupon for one 7 lbs.or 8 lbs bag of any World's Best Cat Litter Clumping Formulas.
But Wait There's More!
There are more great products and savings stuffed into your Triple T Studios™ bags! Look for feline fun and canine cool items from birdsbesafe cat collar, Cat Power Tower, Cattoo Design, kittyblock™, moderncat, Pet News and Views, Spirit Essences, Sturdi Products,Temptations® treats for cats, and TipsyNip™ Organic Catnip Products.
And more goodies from VIP Cat and Dog Bloggers!
Make sure you RSVP to be eligible for even more prizes. There is a RSVP prize, a PreTweet Prize and a Canine Cool Hipster for one lucky Rafflecopter participant.