The Tiniest Tiger community's motto is Small Paws United  Can Make a Big Difference! Over the last couple of years since we began with our The Tiniest Tiger Facebook page we have grown to over 24,000 strong and have generated over $30,000 to help both our big  and small cat cousins in need.
When I was in my thinking circle a few months ago, I started to dream about a way to help more of our cousins. I didn't want to keep asking you for donations because you have all been super generous.  I wanted  to reach outside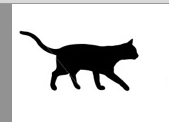 my circle and try something completely new. I thought about my mom and her friend Maureen. Between the two of them they have about 9 Lives worth of experience in product development, production, sales and marketing. They came up with all kinds of wild ideas, but finally when I showed them my sketch of a cat walking with her tail in the air, Triple T Studios was born and I am the CEO, Cat Extraordinarily Optimistic.
When you are on the right path, the pieces start to fall into place. Have you ever noticed this?  I batted the idea in the direction of making a super fun, yet classy line of handbags with a feline finesse.  We wanted to have the bags made in the United States, and if it could be close to my habitat, even better, because you know I am not so fond of traveling in my carrier.