The Tiniest Tiger's Snow Adventure is a Friskies Finalist
Friends, we did it!  We are one of the official Finalists in The Friskies.   Your  support helped Gracey's video The Tiniest Tiger's Snow Adventure make the top 12! Thanks to Friskies we are heading to New York City to find out if our video won the 2013 best video for CatVenture at The Friskies
Please Text to Vote for Gracey to be the Fan Favorite in The Friskies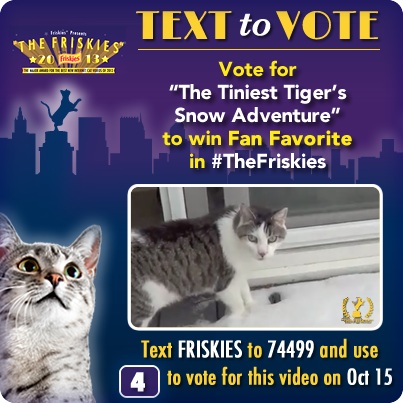 As a Finalist, we are also up to win an award as The Friskies Fan Favorite Internet cat video and a $5,000 cash prize and it is the fans that decide on the day of the show.  Here is all you need to do:
Text to Vote for Gracey
On Tuesday October 15, between the hours of 7:00 a.m. and 7:45 p.m. EST you can vote by text.
Text FRISKIES to 74499 to vote
When prompted, enter the number 4.  This is our special code.
Then you can tune in to www.thefriskies.com that night at 7:00 pm EST to find out which cat videos win live in New York City.
Thank you so much!
Thank you so much for all of your patience and support during the voting process.  Your participation and friendship mean the world to us.
Don't miss out on The Tiniest Tiger News :
Enter to win a Peek-a-Prize Toy Box by pouncing here: Smart Cat Peek-a-Prize Toy Box Giveaway
Enter to win a Drinkwell Original Fountain by pouncing here:  Drinkwell Fountain Giveaway
Related articles