Dr. Raasch from Iams Answers our Readers Questions.
Some of you asked questions about cat food ingredients, proteins and other concerns you might have about your cat's nutritional requirements in our post Which Protein is Best for your Cat. Dr. Raasch from Iams  answered your questions  in a personalized video.  Our Friends Jayme and Maya's questions are addressed in the first video.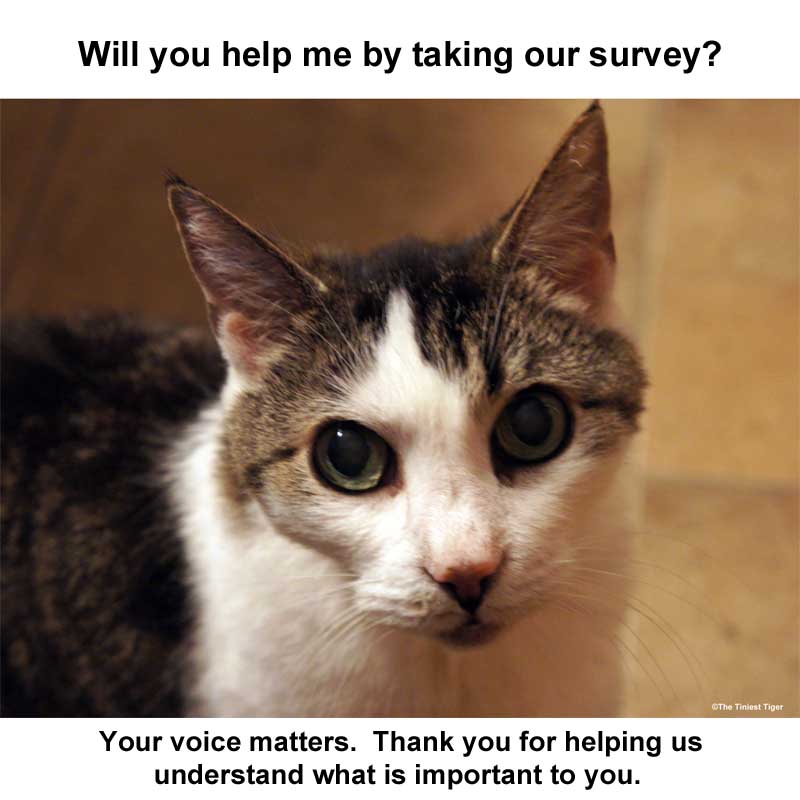 Pet Food Preference Survey for Cat and Dog Parents
As part of our zoology studies, we are super interested to learn what is important to you when choosing food for your cat and dog.  Your opinion matters!  Thank you for your consideration!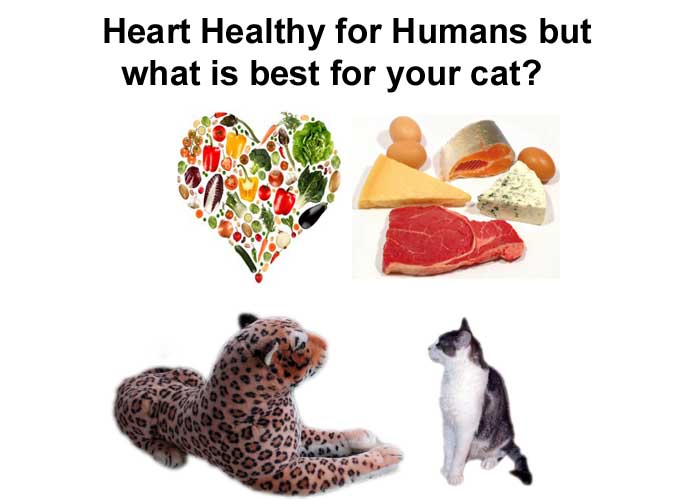 Do you wonder what protein is best for your cat?
Food trends come and go. Many humans like to mix up their diets by trying a variety of  foods and flavors.  My mom is a foodie. She has developed award winning specialty food products  and even now that she is a zoologist  she still likes to  learn about interesting new ingredients  and innovative foods.  Just ask my dad, you probably never want to go to the grocery store with her.  She really likes to  stalk the shelves for what's new.  But we cats, well we aren't concerned with pink himalayan sea salt or agnolotti with celery-root puree. We just want protein.
Cats are obligate carnivores and we need to eat protein that contains 10 specific amino acids that we can't make on our own. These essential amino acids are known as the building blocks for important biologically active compounds and proteins. If we become deficient even of just one essential amino acid, it can lead to serious health problems. Your cat's menu should be made up almost entirely of protein sources from meat.  This is why we cats are always on the prowl for the amino acids in protein.
Do you have questions about cat food ingredients?
Cats deserve treats too!
Did you know that dog owners are twice as likely to treat their dogs than cat owners?  Because dogs are bigger babies,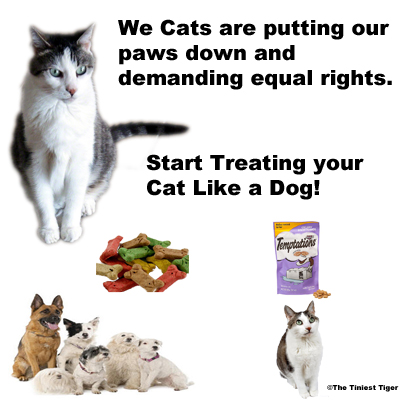 I mean are not as independent as cats, many pet parents are so preoccupied with the  whiny canines that they don't even get time to think about treating the cats!
Well, we cats say no more! Just because we cats are like the A student that always brings home a perfect report card without having to study doesn't mean we don't like attention. We understand the dogs require lots of tutoring just to get along but that doesn't make it ok to take the cats for granted. We like attention too even if we don't always drool and beg for it.
It is time  as a pet parent you start treating your cat like a dog!
Cats like treats too.
Did you know that Temptations® Treats for cats are the leading cat treat on the market? They come in a wide variety of types and flavors too so even the most discriminating feline  palate will find one that they will enjoy.
Cats Need Water
All cats need water. Even though you might hear people say their cat never drinks water, or even say cats don't need water,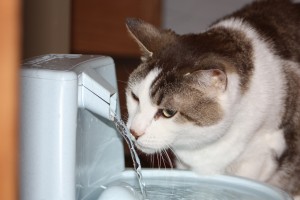 we know this is not true and that all cats need water. Our wild cousins intake water when eating their prey but they also seek out watering holes.  Domestic cats sharing their homes with humans are descendants of the African Wildcat, but the life style and domesticated adaptations make their needs different. Most house cats are not surviving off of their hunting skills.
House cats benefit by drinking more water especially if they are eating a dry kibble diet. Cats consuming wet food do get more water from their food but still need to have a separate water source. I have an electric water fountain and a bowl of fresh water by my chow station.
Two Hydration Tests Your Cat Needs Now
There are two simple tests that you can do at home to make sure your cat is getting the water they need.  My parents perform both of these tests on me quite often. They are not painful or difficult to withstand.
Cats are Water Wizards
Water is essential to survival and land animals have evolved to meet their water needs in various ways. Some absorb water
through the skin, some extract water from the moisture in their food but most animals rely on drinking water to stay hydrated.
At first you might say, well of course animals drink water, but when you start to think about it, the simple act of drinking presents a challenge because fresh water is mostly a horizontal liquid surface in puddles, ponds, lakes and streams so animals must work against gravity to get the water up off the ground and into their mouths. This simple act of survival is actually a remarkable achievement.
Cats Don't Suck because they simply Can't.
Vertebrates (animals with backbones) use their tongue in two distinctly different ways. Vertebrates with complete cheeks, such as pigs, sheep, and horses, use suction to draw liquid upward and use their tongue to transport it into the mouth. However, vertebrates with incomplete cheeks, including most carnivores (cats are carnivores),  are unable (after weaning) to seal their mouth cavity to create suction and therefore rely on their tongue to move water into the mouth. It is physically impossible for a cat to suck.
Get $5.00 off with Hill's Science Diet Coupon and an additional $5.00 off at PetSmart Sale!
Lori from Hill's Pet Nutrition let me know that they have a special coupon for $5.00 off any bag of Science Diet® dry pet food this Memorial Day weekend. What makes this an even better deal is that PetSmart is running a special for $5.00 off the original price of Science Diet cat food and $2.00 off the original price of Science Diet dog food.  And, these two specials can be combined for a $10 savings.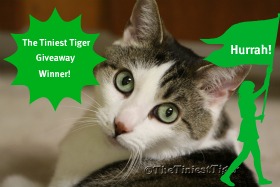 Super Hurrah and Congratulations to our Winners!
First Place-  Aatara
Second Place-  Jacky
Third Place-  Susan Bell
Thank you to everyone for your participation. Stay close by for other exciting giveaways.
No Need for House Cat Hairball Drama!
Today in honor of National Hairball Awareness Day, we thought it would be interesting for everyone to share their own house cat hairball drama. As we discussed in our post House Cat Hairballs, We Need to Talk, hairballs are the one cat issue that cause our parents grief.  With so many salient qualities, we felines might think  our hacked up hairballs might simply be overlooked. But, it is not only the ick factor we need to worry about, chronic hairballs can cause cats serious health problems and when we are sick, that causes our pet parents stress because they love us.
Two Things Pet Parents Can Do to Reduce Cat Hairball Drama
House Cat Hairballs.  There I have said it.
Friends, we need to have a talk about the one thing that might just give our canine companions the leg up when it comes to sharing the home with our pet parents. Now I know what you are thinking  and it is true, we cats have far less issues than dogs. We are super intelligent versus  the workaday mind of the canine,  we do not need to be potty trained like a puppy and  our voices are soothing and pleasant, except when provoked, versus the shrill and decibel busting bark of the dog.  I could go on but there is no need to kick a dog while it is down.  What I mean is, dogs just can not help that they are sloppy, smelly and silly so we accept and love them for what they are.
However, in a recent scientific study conducted at the Lazy Leopard Research Institute, a cat issue was stepped on and brought to our attention.  Even though dog issues far outnumber cat issues, as you can clearly see in the Venn diagram below,  we are compelled to point out that we cats have one issue that seems to cause our human parents grief and that is, the hairball.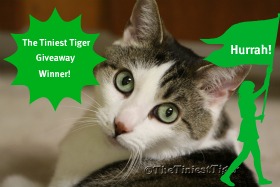 Congratulations and Super Hurrah to HArvey 2210, Batmans Mom, Monica H and Trish. You are the winners in our Fancy Feast Giveaway!
I have sent each of you an email to the address you posted with your comment. Please let me know where to send your Fancy Feast via USPS asap!
Is your Cat a  Connoisseur?