Posts Tagged 'feline diabetes'
Dr. Ruth MacPete is our guest today!
I am honored to introduce you to  Dr. Ruth MacPete.  Dr. Ruth, "the Pet Vet", has appeared on TV shows like "The Doctors" and on the TV news programs throughout the country educating pet parents about important pet issues.  She has also written numerous articles for Cat Fancy, Bark, and Kittens USA.
Dr. Ruth always wanted to be a veterinarian. Her love of animals was evident from the time she was a baby. One of her first words was cat, not surprising since she seemed to always be surrounded by them. This is our kind of Doctor!
November is Diabetes Awareness Month. Many of you know that I have diabetes and  that my parents take good care of me with glucose checks and making sure I get my ProZinc insulin twice a day.  But  we wondered if cat parents are knowledgeable  about feline diabetes.  Dr. Ruth was super nice and offered to talk to us about what all cat parents need to know about diabetes.
Guest Post by Dr. Ruth MacPete
DIABETES AFFECTS CATS?
Diabetes affects 1:200 cats nationwide and its prevalence is increasing at an alarming rate. Diabetes is a multi-factorial disease caused by different risk factors including: age, genetic predispositions, diet, and obesity. Unfortunately obesity is also on the rise in both people and pets. It is estimated that 58% of cats in the US are overweight. That means more than half of cats in the Unites States are at risk for developing diabetes. 
WHAT IS DIABETES?
Diabetes mellitus occurs when the body is unable to regulate the amount of sugar in the bloodstream. Diabetes is classified as type-1 or type 2-diabetes. Type-1 diabetes occurs when the body fails to produce the hormone insulin, which is responsible for controlling blood sugar levels. Insulin resistant or type-2 diabetes develops when the body becomes less responsive to the effects of insulin. Type-2 diabetes is the most common form of diabetes in both cats and people. Both type-1 and type-2 diabetes result in chronically elevated levels of sugar in the blood. Left untreated diabetes can lead to nerve damage, kidney failure and even death.
Last fall, I started showing symptoms of feline diabetes. I was getting super thirsty and began to drink a lot more water. And even though I was hungry and eating more, I was getting thinner. I was making more trips to my little box too.  My parents scooped me up and put me in my cat carrier and we went to see my doctors at the Morris Veterinary Clinic. My diabetes had returned. This time, my doctors didn't think it was going to be transient like it was after suffering from pancreatitis the previous year.
Hearing that your pet has developed a health condition can be a scary time for pet parents.  But feline diabetes is treatable and your cat can resume a normal, happy healthy life once the diabetes is under control.
One of the best ways to help aid in regulating insulin levels is for your parents to learn how to use a blood glucose meter and plot a glucose curve at home. Now at first, you might think this will be too difficult, and it can be intimidating, but with some practice and patience, you will be able to get this testing down to a routine.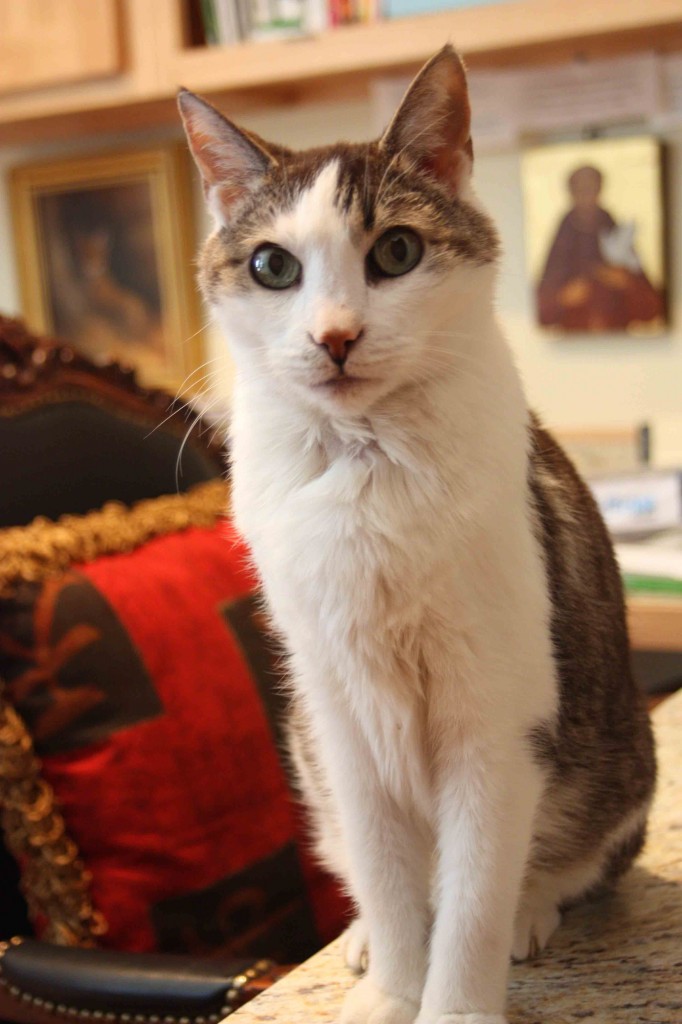 Friends, I want to take a moment to talk to you about something serious. Many of my cousins and their parents have  diabetes. I have  feline diabetes too.  In my photo, you can see where my fur was shaved for my blood test.  I don't mind showing you because we are all beautiful, imperfections and all.
I developed pancreatitis after receiving some medicine and during the recovery process, I developed transient diabetes. This was a super difficult time for me and my parents and for my Doctors too. It was hard to get the right dose of insulin for me and I knew my parents were scared and that scared me too. My  feline diabetes disappeared for a long time, almost two years.
Last Fall, I started  showing feline diabetes symptoms. I was getting super thirsty again. It seemed like I was always hungry and even though I ate more I was getting thinner, and thinner. My parents scooped me up and put me in the ~shiver~ carrier and we went to see my Doctors at the Morris Veterinary Clinic.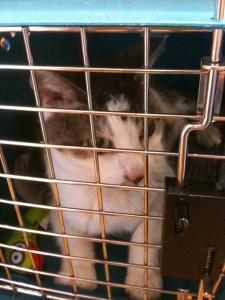 I don't like to be in my carrier at all even when Teenie Sardini rides along with me. And  when I know my parents are worried, I get even more anxious.  They try to stay calm but I can see their teeth chattering from nerves.
All the people that work at the clinic are super nice to me.  They really are.  Here is a photo of me being examined by one of my Doctors and  Joe. (Joe has red hair like my dad.  He is really nice to me and always smiling.)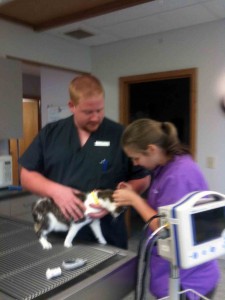 It was determined that my diabetes had more than likely returned and I needed to stay at the clinic for a glucose curve. Even though everyone is nice to me, I sure don't like to see my parents walk out the door without me.  They don't like it either because my dad has to tell my mom to get  going and then sometimes I see my mom tell my dad to go when he turns around to look at me before they leave.
My parents always come to visit me when I am incarcerated, I mean staying at the clinic.  I get super hungry when they visit and my cell, I mean condo door is opened so they can  pet me and we have a bit of a chat. My mom usually picks me up and hugs me. Sometimes too much but this is one time I don't mind.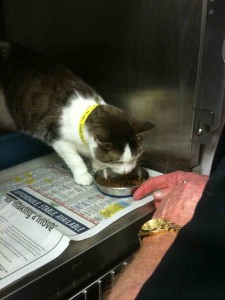 This can be a scary time for our pet parents. They want to do everything they can to help us too.  Our parents have to learn how to test our glucose levels with a glucometer, we use the Alpha Trak. They have to learn how to give us injections of insulin.  I take ProZinc and we use the Diabetes Care Kit.
We have to learn how to stand still while they prick our ear or paw pad. I need more practice at the standing still during the ~shiver~ ear stick.  Some days I am just, well to be honest, wild!
During the first week or two, my parents were so worried, they even cried.  Sometimes they would give me the injection but the insulin would pool up on the outside of my skin.  Sometimes I would wait until they were ready and then take a big step to the right to avoid the needle.  Now we have it down to a routine.
I think we will chat more about Feline Diabetes in a few upcoming posts.  Our cousin Sassy is newly diagnosed and her mom Carol is super scared like my parents were.  Our Friend Trish really helped my mom when I was first diagnosed too. I really like it when  our small paws can unite to help our Friends in need of love and support.  Thank you everyone.
*Please note  there is no substitute for the advice, examination and care from a Veterinarian.  All information here on The Tiniest Tiger is from my own experience and not intended to be  used to diagnose or treat symptoms in your cat.  Please consult a trusted Veterinarian for all your cat's health needs.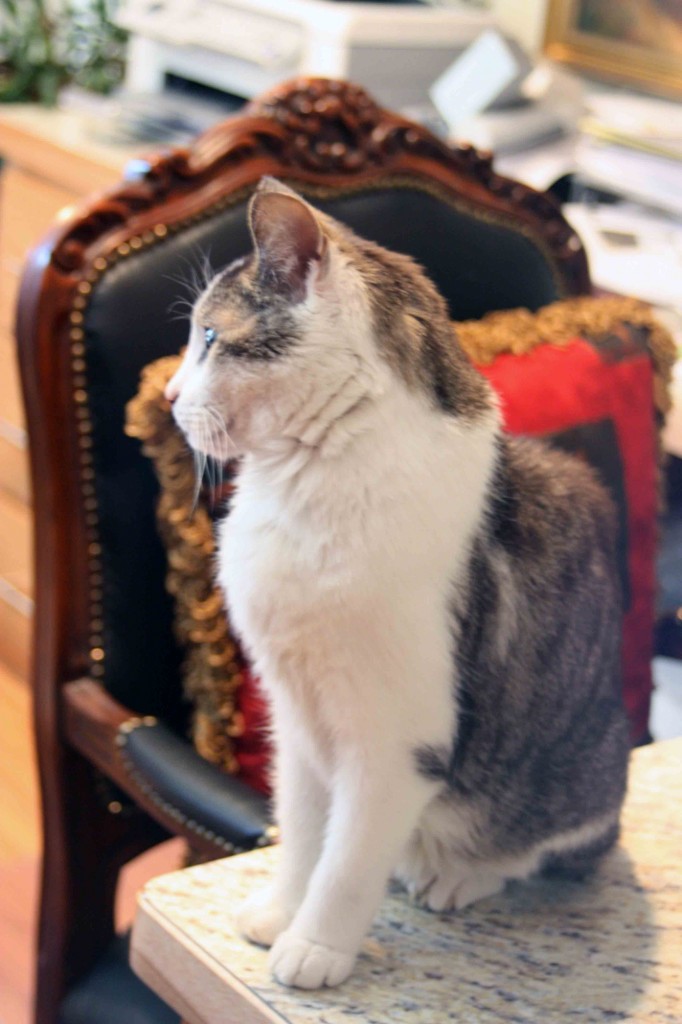 Friends, it is the YEAR OF THE RABBIT in the Chinese Zodiac!
I started to think about Rabbits while here in the office working with my mom. Rabbits are great jumpers and as you might already know, I love to leap!
When my  feline diabetes returned, my back legs were a bit weak so my jumping abilities were limited.  I tried and failed at many attempts to imitate Super Cat.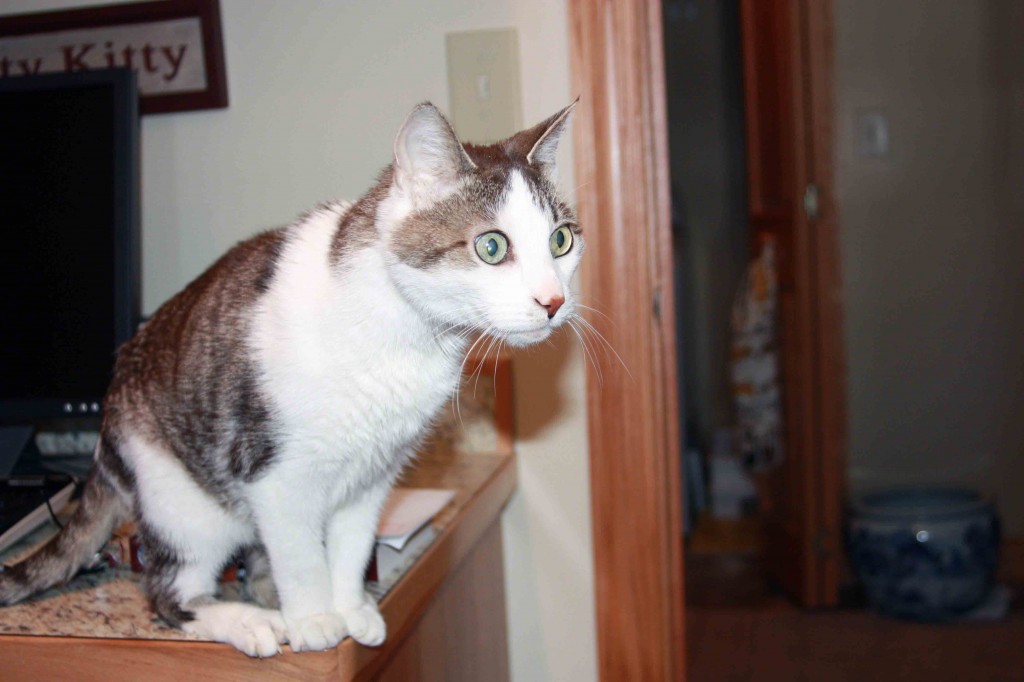 But now, I am feeling like myself again and I think maybe I can leap from this desk, over my mom's shoulder onto her desk.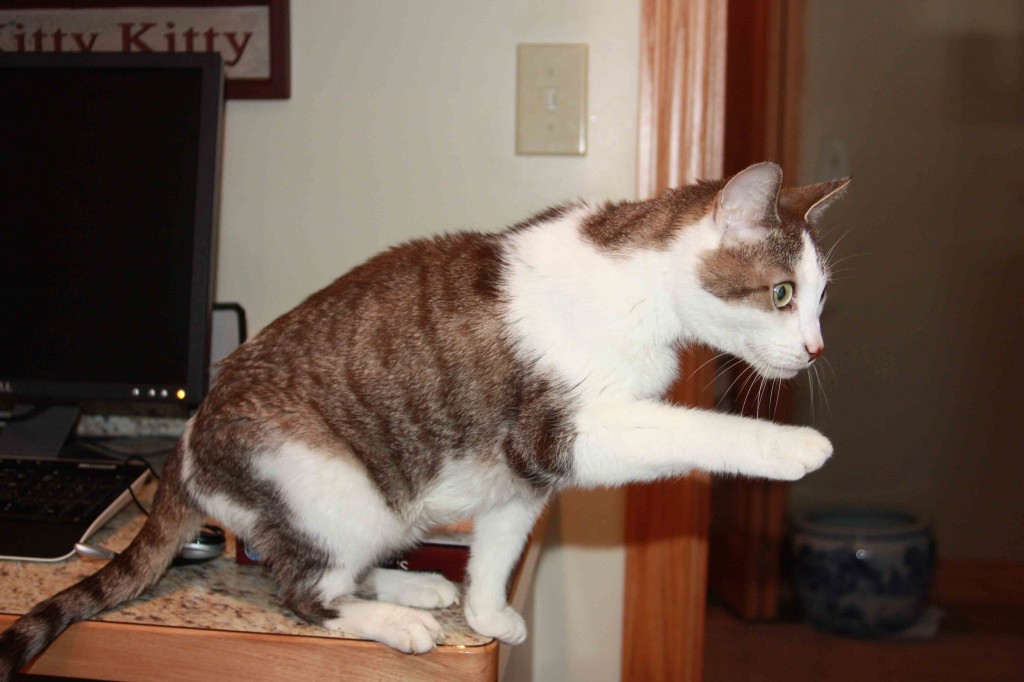 Yes, I think I can. Wish me luck.  Here I go…..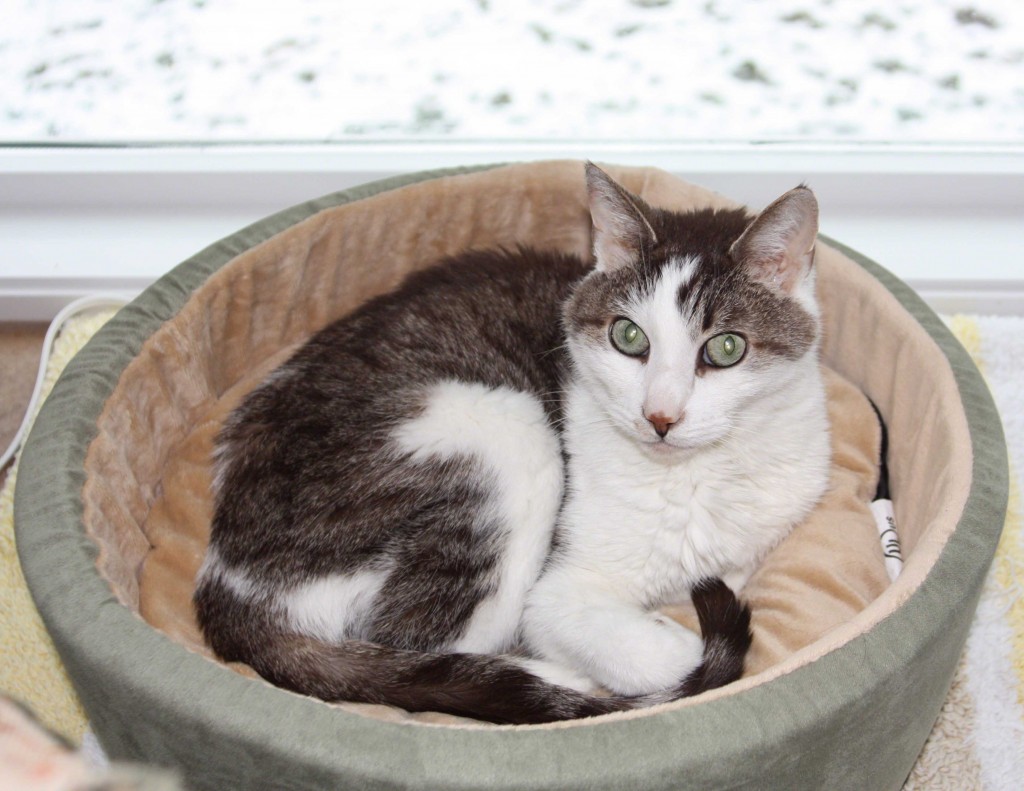 All I can say is I MADE IT!  I REALLY DID!
My Mom did not share my enthusiasm at first.   I scared her when I skidded across the desk and landed between the keyboard and the monitor.  She didn't know  I was coming.
She told me it might be a good idea for me to keep Lazy Leopard company for the rest of the morning.   My heated thinking circle is snuggly warm, I have to admit.
Friends, yes this is me Gracey, The Tiniest Tiger in my ~shiver~ carrier waiting my turn to be seen by the Doctor at the Morris Veterinary Clinic. ~heavy sigh~
Don't worry.  I will let you know what the results are of my glucose curve test. I might have to go back on insulin for a while.
This explains why I have been so hungry.  I really can't be blamed at all for almost turning into a chicken thief now.
Please don't worry, I am in very good care with my parents and doctors.
But if you can send me some prayers and well wishes that would be great.
This is why it is super important for all Cats to get a check-up at the doctor.  Many of our symptoms are quite subtle.  My glucose levels are not dangerously high and I am feeling fine, but left unchecked it could get worse.  I know we hate to get in our carriers and go, but this is something that we must do.
Thank you everyone for being my Friend.  Meow for Now!

Hi Friends!  It has been 16 weeks now that I have been using the Smart Cat Box. Now I typically don't like to discuss my litter pan issues but  I think this is important information to share with you.
You might remember that we had a discussion about To Clump or Not to Clump? In this discussion we talked about the issues with clay litter.  My parents were purchasing  a popular brand of natural clumping litter for me to use.  It was not a clay litter but made from natural biodegradable corn fibers.
Some of you might already know that I suffered from pancreatitis and transient diabetes. During this time, it was necessary to test my glucose levels on a regular basis.  Unfortunately, this meant getting an ear or paw stick with a super sharp pointy needle.  My parents said it hurt them more than me, but I don't know about that.  I never got to sneak up on them and poke them in the ear with a needle  to see if it hurt me more than them.  Sorry for the digression.
One happy day in May, our friend Jone told me about the Smart Cat Box.  I got in contact with Sara Maguire, the creator of this unique box.  Sara was so concerned about my sticky situation that she offered to send me a Smart Cat Box to try. Sara, is a genius because she designed the Smart Cat Box with a urine collection system (your pee goes into a container).  Now my parents can use a  Keto Diastix Strip to test my glucose and ketone levels.  Pain free for me and for them, I guess.
Here is what I want to you know about the Smart Cat Box
User Friendly

- I took to this box right away.  I used my old litter pan less and less and started to favor the Smart Cat Box.  ( I have two littler pans.)
Eco Friendly

- Because your parents can flush your pee, there are no more of those stinky pucks of pee lurking in your box to be scooped out and disposed of in a plastic bag.  Oh your poo too.* unless you live close to the ocean.  If you do place the poo in a paper bag  in the garbage.  Our poo is not good for sea otters!

Less Work

- My parents are telling me that this is the lowest maintenance litter pan they have ever used.

Less Tracking- 

yes and no more icky sticky paws!

Less Odor –

my parents are amazed.  And my poo is pretty smelly.



No Dust-

None!!!!



And what is perhaps one of the best things about the Smart Cat Box is that you will save money!!

Less Expense

– Here is our cost savings so far.*based on my habitat

Before the Smart Cat Box, my parents were using 1.5 bags of natural clumping litter per week.
Each bag costs approximately $11.12 (litter plus tax)  $11.12 x 1.5 x 16 weeks =$266.88
We have used  15 lbs of the Seedtec Safflower Seeds. $11.22 for 5 lbs. (Seeds plus shipping)= $33.66
$266.88-$33.66= $233.22 SAVED
Now even if we deduct the cost of the Smart Cat Box:
$266.88-$33.66= $233.22- $65.00 (cost plus shipping) =$168.22 SAVED
Over a year our habitat will save
1.5 bags natural clumping litter per week   $11.12 x 1.5 x 52 weeks =$867.36
Averaging 1 lb of Seedtec seeds per week  $2.24 x 52 weeks = $116.69
$867.36 – $116.69 = $750.67 SAVED
Even if you are super stinky and for some reason would use twice as much Seedtec seeds, you will still save  over $600.00!
This savings more than pays for your Smart Cat Boxes.
To learn more about the Smart Cat Box please click here!
You can also learn about the Smart Cat Box from my interview with Sara, the creator of the Smart Cat Box by clicking here.
If you decide to purchase your own Smart Cat Box, you can use the code CCC15.
Sara is offering a 15% Discount to Friends of The Tiniest Tiger's Conservation Cub Club!  Super Hurrah!
Do you have any questions for me about the Smart Cat Box?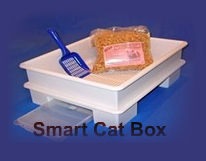 Friends, I recently had a chat with Sara, the creator of the Smart Cat Box.  I thought that you would find our conversation interesting and am posting it here for you to read in a Question and Answer format.  For those of you that are living with feline diabetes,  this might just seem too good to be true.

Gracey: Sara, I want to tell you thank you.  The Smart Cat Box is the best litter box ever!  And also thank you for agreeing to answer some questions for us. Here is my first question.  We cats are quite clever, is that why you named it the Smart Cat Box?
Sara: Gracey, I called it Smart due to the box's New Advanced Design. The fundamental difference is that the SMART CAT BOX is an entirely new approach to the way we collect and dispose of cat urine. The new, patented design is amazingly simple. The SMART CAT BOX is a three component Urine Collection System. The top box has a slotted floor to hold non-absorbent cat litter. The bottom box has a slanted floor and drain allowing urine to flow directly into a removable covered urine collection reservoir for easy collection and disposal.
Gracey: That is quite interesting, but to clarify, you do think Cats are clever right?
Sara: Yes, of course! It is a known fact that cats are the smartest species on the planet. I think I heard that from my own cats.
Gracey: OK, just checking.  Most Cats do not like change. With the New Advanced Design, are we going to have trouble adjusting to the change when we switch from our old litter pans to the Smart Cat Box?
Sara: You will  jump into the top box and urinate as usual. All urine passes through the non-absorbent litter and through the slotted floor to the bottom box. Urine flows down the drain into the covered reservoir. The urine can be tested for blood glucose levels, if necessary, and then disposed of down the toilet. Firm feces do not stick to the litter and is scooped out and disposed of. So it is easy and natural for you. Gracey, I must mention one thing. If you live near an ocean please tell your parents to place the feces in a paper bag and dispose of it in the trash. There is something in cat feces that can harm sea otters if it reaches their ocean environment. Of course, if you don't live near an ocean then the feces can be flushed down the toilet.
Gracey: Can you demonstrate how to use the Smart Cat Box for us via a YouTube video?
Sara: Well, umm, I don't know… Maybe, with a little help from you.
Gracey: HAHAHAHAHA, Sara I am kidding of course.
I agree, the Smart Cat Box is easy to use. I took to it right away. When it first arrived at our habitat, my mom placed it in the office for me to investigate. At first, I preferred to sleep on top of the shipping box, but what Cat can resist a nap on top of a box? Then my parents replaced one of my litter pans with the new Smart Cat Box. I of course, pretended not to notice it for a period of time, but I couldn't resist trying it out. My parents were so excited they were high fiving each other and dancing around the house. Why do you think my parents were so excited?
Sara: The Smart Cat Box is much easier to keep clean and the litter stays dry. No more scooping and scraping. The non-absorbent litter remains dry and virtually odor free with minimum maintenance. The litter pellets last for several months.  The Smart Cat Box is inexpensive to buy and inexpensive to maintain. Under normal conditions, with one cat it can pay for itself in 7 weeks and with two cats it can pay for itself in 4 weeks.  Your parents were probably excited to be odor free and to save money.
Gracey: That makes sense.  I admit, at times I can be a bit of a "stinker". I really like that the litter stays dry. No more icky wet paw feeling stomping around in the clumpy used litter. Sara, I had transient diabetes from pancreatitis. I have recovered, but my parents remain obsessed with checking my pee, I mean urine.  The Smart Cat Box seems ideal for Cats and Cat Parents living with diabetes.
Sara: Gracey it is a great help for Cat parents. While blood sampling may be the best test for diabetes and chronic renal failure(CRF ) and other health issues, urine sampling for blood glucose levels is a much less traumatic second best. It all but eliminates the need for veterinarians to squeeze or puncture the bladder (cystocentesis) to obtain urine specimens for urinalysis.  With the Smart Cat Box you can now test for blood sugar levels easily and naturally at home as often as needed using urine test strips and reporting results to your veterinarian.
Gracey: ~shiver~ I remember my ear and paw sticks. Oh, this is much easier on everyone as a way to monitor blood glucose levels at home.  What is different about this litter that allows the urine to flow through to the reservoir?
Sara: The non-absorbent SAFFFLOWER seed litter is all-natural, ecologically & environmentally friendly, renewable, sized specifically for the Smart Cat Box and is grown in the US. Because it is non-absorbent, the urine flows through to the covered urine collection reservoir which can hold 24 oz. of fluid. This is normally enough capacity for one cat for several days or a few days for multiple cats. The reservoir drawer is easy to remove and easy to replace.  It has a spout so that urine can be poured into the toilet without removing the snap-on lid.
Gracey: The Tiniest Tiger's Conservation Cub Club cares for all Cats both Big and Small. Our Big Cat Cousins need our help in preserving their habitats. I really like that the litter is all-natural, ecologically & environmentally friendly, and renewable. Using the Smart Cat Box helps reduce the volume of cat litter being dumped into landfills.  That is great for our earth.
Sara: The Smart Cat Box is the only cat litter box featured in the 2009 edition of the Whole Green Catalog 1,000 Best Things for You and The Earth (pg. 341).  As a special bonus to Friends of The Tiniest Tiger's Conservation Cub Club, I am offering a 15% discount for Starter System & Value Paks. Friends will type CCC15 as the discount code when they order the Smart Cat Box.
Gracey: HURRAH!  That is so nice of you Sara! I have already had several Friends inquire about the Smart Cat Box.  Soon more Friends will be odor-free and saving money and the environment all at the same time. Thank you again Sara, You have eliminated one of my elimination problems.  Hahahahaha, do you get it?
Sara: Yes, I get it.  You are welcome.  Thanks for letting me talk to you about the Smart Cat Box. You can find more information at www.smartcatbox.com.
Gracey: Would you like a Prescription Diet Hypoallergenic Treat?  They are quite tasty.
Sara: No thank you.  I am good.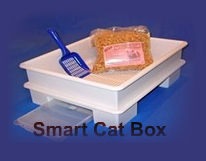 Friends,
My parents might be considered over protective of me.  But they have their reasons.  I was very sick when I came down with pancreatitis after receiving  my shots.  I developed transient diabetes and it was a trying time for me, my doctors and my parents.  Luckily, I fully recovered and now enjoy good health. But during this transition, my parents began to worry about everything that I came in contact with, including the litter in my pan.
My parents were concerned about the safety of clumping clay litter. Clay litter has been criticized  because it contains the clumping agent, sodium bentonite. Sodium bentonite is a natural clay, but when it absorbs liquid, it  can swell up to fifteen times in size!  Whoa! I am picturing those little sponge toys that come in a capsule and they grow when you add water to them.
The clay litter is also dusty, so what happens when we cats breathe in this dust? What happens when our parents breathe in this dust? Anything? Is clay litter safe?
Cat parents worry about what happens when a cat licks their fur and paws, eating sodium bentonite dust.  Being cats, we are naturally curious, so what happens when a kitten decides to test taste the clay litter? Could the sodium bentonite clump up inside the kittens body, causing gastrointestinal  blockage and/or death?
Clay litter manufacturers  assure our parents that their products are safe.  And to be fair, all evidence of sodium bentonite being harmful to us is anecdotal, meaning no scientific studies have been done. Even so, many parents have started switching to natural cat litter for added protection for their feline family.
Cats Against Clay,  (C.A.C.) a unified front and quasi-political group united in the hatred of all things clay is gaining momentum. Recently at  the BlogPaws Conference their anti-clay message  was loud and clear. C.A.C. claims responsibility for the increase in sales  for all-natural cat litters.
So, The Tiniest Tiger is wondering what you think.  Are you concerned about using clumping clay litter?