The new year has arrived and with it came a new responsibility for Eddie and me.  It is time for us to follow Gracey's paw prints caring about all cats big and small.  Even though we are still kittens, we have grown a bit and learned a lot from Lazy Leopard and Bad Kitty.  They have been guiding us and with their help we feel we can begin. After all, small paws united can make a big difference.
I am going to let Eddie go first.
We want to tell you a story…
 Eddie's Story
Annie and I are super lucky to have been adopted.  I am especially grateful that Donna at Grayson County Humane Society decided to let the two of us share a crate.  I know our parents were planning to adopt Annie so I feel extra lucky that when they saw Donna's video  they decided to adopt me too!  Over the last few months, we have been busy growing and playing but we have also been learning about Gracey and our big cat cousins.
Lazy Leopard has a lot of knowledge.  You might think he is just stuffed full of mischief but he is a great storyteller and  loves to tell us about Gracey.  You see, Gracey was Lazy Leopard's best friend and she kept him company ever since he came to live with our parents too.  But Lazy Leopard told us a secret.  He told us that if we listen really close, we will be able to hear Gracey whisper to us.   You might wonder how Lazy Leopard can tell us these things because when you look at Lazy Leopard you see him like in the photo above.  So Annie and I decided to try and show you what we see when we look at Lazy Leopard.
Now you might understand what a great storyteller he is and why we love to visit with him in the sun room.  I asked him if this was how Gracey saw him too and he laughed and said, "Of course Eddie!"  Then he told us to always remember that amazing things can happen when you believe.
Annie's Story
I already let you in on my secret that I hear Gracey whisper to me when I am sleeping or daydreaming in the sun room. And just like Lazy Leopard told us, amazing things happen when you believe.  Gracey had another best friend and I am sure you know him too.  Bad Kitty always seems to have the answers to help us out when we are confused. We think Bad Kitty likes to have us around  because his heart was broken when Gracey went away.
You might think that Bad Kitty is very strict and rigid and wonder why we like to visit with him so often when you look at him.  But just like Lazy Leopard, we see Bad Kitty in a different way than human eyes see him.
Now you can see that Bad Kitty is quite an animated story teller. He really puts his whole body into the tail tale.  We love to race into the office and ask Bad Kitty to tell us a story.  He told us that only one human came close to seeing him like we do, and that was the Federal Express Delivery Man.  Pounce here if you want to read that story.
Thank you for continuing on this journey with us
Eddie and I can't thank you enough for continuing on this journey with us.  Gracey is so proud and happy to know that you care about our cousins big and small.  I  want to tell you another secret.  When I looked outside tonight, this is what I saw. Do you see what I see?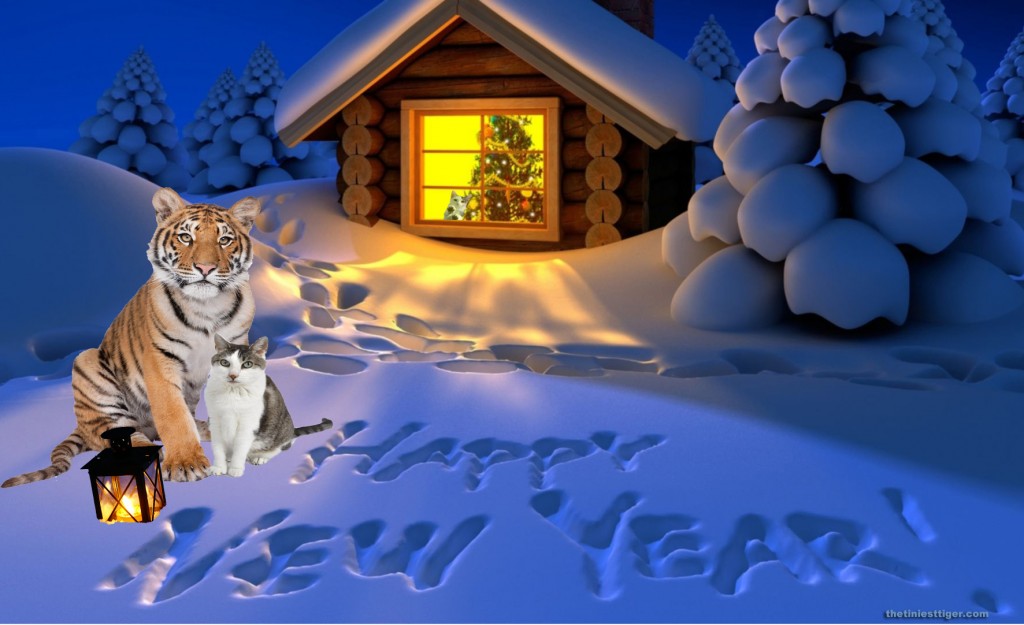 Lazy Leopard and Bad Kitty are right.  We simply have to listen when loved ones whisper in our ear and believe what is in our heart.
We wish you a Happy New Year and are so happy you are our friend.
Don't miss out on The Tiniest Tiger News :
Subscribe to our newsletter