Does Your Cat Need Project Pet Slim Down?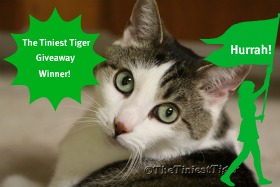 Super Hurrah! Congratulations to Dina, the winner of the $25 Target Gift Card. Thank you to everyone for participating.
My parents might say a lot of things about me like; I am mischievous, talkative and smart but one thing I am not, is a fat cat.  I am the perfect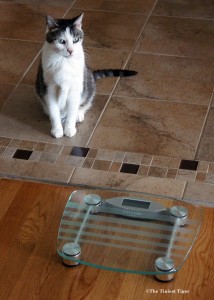 weight for my body type.   There was a time when I was a bit too thin when I was recovering from pancreatitis, but now I am wearing my 7 pounds well.  My brother Mercy, well…. ok.. he is also at a good weight for his body type.  Weighing in at 10.4 lbs. our doctors tell us he is in great shape.  He is just a bigger cat than I am, bigger boned and he really is. He is not just saying he is big boned to try to cover up the fact that he might be a bit chunky from all of those treats my grandma gives him.  But Mercy and I are in the minority of cats in the United States. Did you know that 55% of cats in the United State are overweight or obese?
In fact, it is not just cats, dogs too are overweight too even with all that in and out bathroom business and organized walking they do.  It has gotten so out of control that there is now an Association for Pet Obesity Prevention and the 2011 Pet Obesity Study found that 93 million cats and dogs are considered overweight or obese.
Friends, it is time that we all face the numbers on the scale.
Because we might need a little help getting started Purina teamed up with Target to create Project:Pet Slim Down. Purina created this online program to help your cat and dog lose weight. Cats and dogs at a healthy weight enjoy happier lives and Purina made it a mission to help every pet parent enable their cat and dog to achieve that weight.   [Read more…]