This is a sponsored post; we have been compensated by Hill's Pet Nutrition.
Hill's Pet Nutrition is not responsible for the content of this article.
Hill's®  Ideal Balance™ natural cat food provides balanced nutrition
Most of my working life has been in the product development and marketing of food for humans.  And as I am sure you are aware, when you walk into a traditional grocery store you are hit with a multitude of products, everything from items with ingredient labels that look like they might have been created in a lab to the products with clean labels; meaning they are produced with natural ingredients.  In fact, there are so many products in a larger format grocery store, a new product only has about 3 seconds to grab the attention of  the consumer.
So it is important that you enter the store knowing what you are looking for, seek out the items you like and are nutritionally sound for you. But human behavior is interesting.  Sometimes we say we want healthier foods but  have a tendency to put not so healthy items into our carts. There are many options for us as omnivores. We can choose low or no fat, low or no carb, gluten free, organic, vegan, you name it.  Nutrition is complicated and so is human behavior.  It takes discipline to maintain a balanced diet.
As consumers learn more about food ingredients, the demand for higher quality, clean label products is increasing. And for those of us sharing our homes with family members that are cats,  we  know we want what is best for our feline's health too.  Pet parents are looking for food that will satisfy  the unique nutritional needs of their cats. Like humans,  cats' nutritional needs are complicated and must be balanced.  But a cat's nutritional needs are different than our own.
Hill's® sought significant consumer input for Ideal Balance™
Hill's was open-minded and sought significant consumer input on its pet food to better understand what pet parents wanted in a natural pet food. Hill's listened to the consumers and Ideal Balance has no corn, wheat, soy, artificial colors, flavors or preservatives.  But, consumers didn't just want better and natural ingredients, they wanted natural ingredients in the correct proportion for their cat.
Ideal Balance was developed by the trusted pet nutritionists at Hill's with consumers' ingredient preferences. They developed a recipe with a thoughtful selection of high quality natural ingredients  making a great tasting recipe with optimal levels of over 50 ingredients.
Ideal Balance™ is formulated with not too much and not too little of the key ingredients.
This food is formulated with not too much and not too little of the key ingredients that help promote your cat's best health. Incorporating the key ingredients that consumers said they wanted and providing perfectly balanced natural nutrition that they guarantee.
All consumer packaged goods companies must verify through solid research what consumer fads are now trends and prepare to change to keep meeting consumer needs. Understanding your customers is the core of staying balanced on whether a fad will fade or become a trend and  then a continuing demand in the market.  Hill's did the research, listened to pet parents and created Ideal Balance.
Introducing Ideal Balance™ into the Market
Hill's took on the challenge of creating exciting new Ideal Balance packaging and in-store advertisements. Packaging research conducted with cat parents who purchase natural foods showed the new Hill's Ideal Balance successfully communicates the message of natural, balanced nutrition. The new packaging outperformed other natural brands in standing out on shelf, looking unique and being viewed as a high quality product. The new packaging reflects the quality expected from Hill's, showcasing the balanced ingredients inside. Ideal Balance bags are also strikingly different from any other Hill's food and were moved to the naturals aisle in many pet food stores.
The next step was to introduce the new Hill's Ideal Balance to a national audience of cat parents .  Hill's changed the blueprint for cat food marketing by creating a commercial that feels interactive.  The commercials  blend real, natural element like grass and gravel with stylized landscape animations.  The two layers work seamlessly with live-action footage of cats, putting the  cat in the Ideal Balance world that showcases the food's potential.  You can see what you think of this new ad below.
New Hill's Ideal Balance™ Cat Food: Not Too Much, Not Too Little
Try Hill's Ideal Balance™ for Free!
If you would like to try Ideal Balance, don't miss your opportunity to receive a rebate of up to $12.99 on any 2-pound or larger bag of Hill's Ideal Balance. Pounce here for rebate.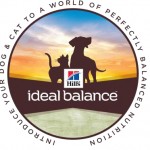 Related articles