Cats deserve treats too!
Did you know that dog owners are twice as likely to treat their dogs than cat owners?  Because dogs are bigger babies,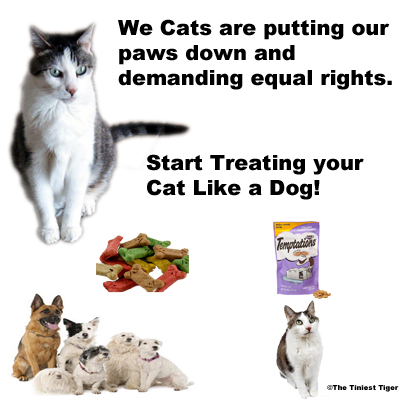 I mean are not as independent as cats, many pet parents are so preoccupied with the  whiny canines that they don't even get time to think about treating the cats!
Well, we cats say no more! Just because we cats are like the A student that always brings home a perfect report card without having to study doesn't mean we don't like attention. We understand the dogs require lots of tutoring just to get along but that doesn't make it ok to take the cats for granted. We like attention too even if we don't always drool and beg for it.
It is time  as a pet parent you start treating your cat like a dog!
Cats like treats too.
Did you know that Temptations® Treats for cats are the leading cat treat on the market? They come in a wide variety of types and flavors too so even the most discriminating feline  palate will find one that they will enjoy.