By Joanne McGonagle
Discover Your Cat's True Nature
Even though cats outnumber dogs living within homes, cats remain thought of by many as aloof, anti-social and not needing the love and attention that dogs are given.  Cats are mistreated and sometimes maligned because  they have been misunderstood. Stereotypes about cats sadly remain firmly in place so the team at Purina One decided to dig deeper and learn about the cat's true nature and what makes a cat…a cat!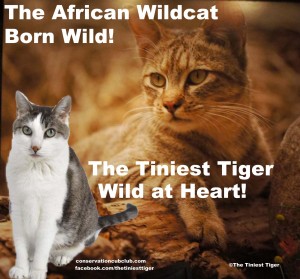 Our domestic cats roots can be traced back to the African Wildcat. So Purina One decided to go to Africa to learn more about our cats living ancestors so that we could all achieve a better understanding of what our own cats need to live their best lives.
I was thrilled to be asked by the Purina One team to join in the journey to discover the true nature of cats where we discuss and explore how to awaken, foster and nurture the natural instincts within our cat so that their lives will be enriched and in turn our own lives are better knowing that our feline family member is enjoying her life to the fullest.
I was in my final year completing my master of zoology with a focus on big cats when I first learned about the Purina One program.   I was so excited because The Tiniest Tiger children's book compares and contrasts the similarities and differences between the big cats and their domestic cousins that share our lives.
Who was your cat born to be?
Cat Parents! Restore the Air You Breathe with CritterZone Air Purifier
Cat Parents, once in nine lives a product comes along that just blows your whiskers back and that product is the
CritterZone Air Purifier.
This compact, filterless, chemical free air purifier is a must have for cat parents.  We met William Converse, the president and inventor of the CritterZone Air Purifier recently at
Global Pet Expo
in Orlando.  William has mad skills when it come to air purification from his 30 years in the industry and he deserves top predator status for the Critterzone.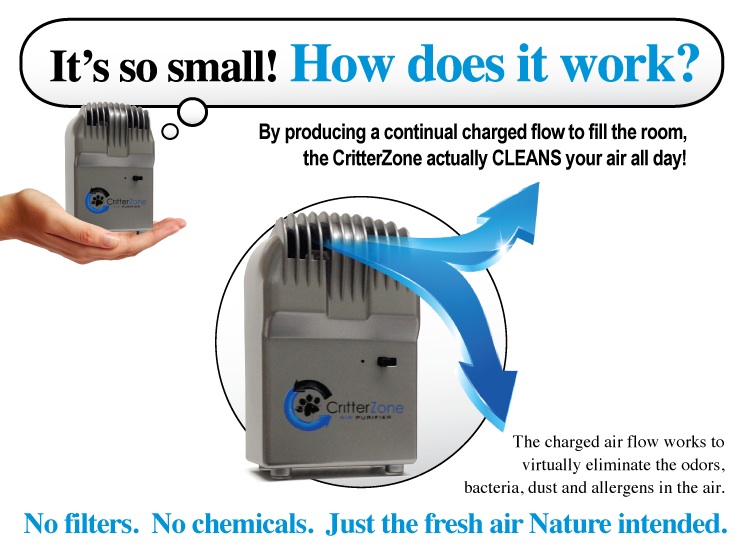 Small but Powerful
World's Best Cat Litter New Scented Formula Coming Soon!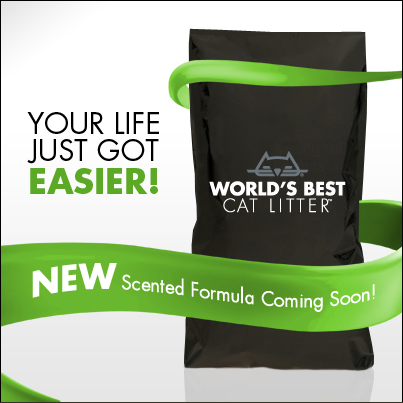 #WorldsBestMysteryLitter
As a member of the World's Best Cat Litter Catcovate Council, I know a secret.  I am trying my best not to tease you but I just can't seem to help myself. After months of research and testing, the newest scented litter is almost ready to make its debut on the market and we have been chosen to test it and review this new scent with you here on our The Tiniest Tiger's Conservation Cub Club!
What do cats and aquariums have in common?
Aquariums reduce stress and anxiety
Both cats and aquariums have been shown to reduce stress and anxiety in humans.  That's right, research concludes that aquariums have the ability to lower blood pressure,  calm the nerves, and clear the mind.   Aquariums create a soothing environment and are thought to have a hypnotic effect on humans.
Lazy Leopard's One Minute Relaxation Video Test
Dr. Ruth MacPete is our guest today!
I am honored to introduce you to  Dr. Ruth MacPete.  Dr. Ruth, "the Pet Vet", has appeared on TV shows like "The Doctors" and on the TV news programs throughout the country educating pet parents about important pet issues.  She has also written numerous articles for Cat Fancy, Bark, and Kittens USA.
Dr. Ruth always wanted to be a veterinarian. Her love of animals was evident from the time she was a baby. One of her first words was cat, not surprising since she seemed to always be surrounded by them. This is our kind of Doctor!
November is Diabetes Awareness Month. Many of you know that I have diabetes and  that my parents take good care of me with glucose checks and making sure I get my ProZinc insulin twice a day.  But  we wondered if cat parents are knowledgeable  about feline diabetes.  Dr. Ruth was super nice and offered to talk to us about what all cat parents need to know about diabetes.
Guest Post by Dr. Ruth MacPete
DIABETES AFFECTS CATS?
Diabetes affects 1:200 cats nationwide and its prevalence is increasing at an alarming rate. Diabetes is a multi-factorial disease caused by different risk factors including: age, genetic predispositions, diet, and obesity. Unfortunately obesity is also on the rise in both people and pets. It is estimated that 58% of cats in the US are overweight. That means more than half of cats in the Unites States are at risk for developing diabetes. 
WHAT IS DIABETES?
Diabetes mellitus occurs when the body is unable to regulate the amount of sugar in the bloodstream. Diabetes is classified as type-1 or type 2-diabetes. Type-1 diabetes occurs when the body fails to produce the hormone insulin, which is responsible for controlling blood sugar levels. Insulin resistant or type-2 diabetes develops when the body becomes less responsive to the effects of insulin. Type-2 diabetes is the most common form of diabetes in both cats and people. Both type-1 and type-2 diabetes result in chronically elevated levels of sugar in the blood. Left untreated diabetes can lead to nerve damage, kidney failure and even death.
Fling-ama-String is Fun!!!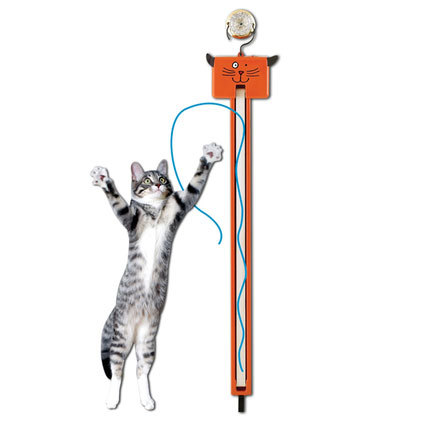 Fling-ama-String is  super fun.  This is one of my favorite toys since my  days as a kitten.  This Fling-ama-String hangs on any standard door knob, is battery operated  and when is turned on  is an automated string-flinging machine.
One end of a long silky brightly colored cord is attached to a white, flat, elastic "conveyer belt" which is constantly rotating. The cord flings in and out for  non-stop pouncing action.  Cats can nip, paw, pounce, and ultimately stop the string, but as soon as they let go, the string automatically starts to rotate again and again and again! It's like having a personal trainer for your cat. The fling-ama-string has 2 speeds for fast or slow flinging.
There is no assembly required so don't worry if your parents aren't engineers. The toy just takes 3 AA batteries (not included).
Award Winning Cat Toy!
Best New Cat Product (Global Pet Expo)
Editor's Choice Award (Cat Fancy)
Product Excellence Award (Pet Age)
Best in Show Award (Global Pet Expo).
Fling-ama-String Giveaway sponsored by the ASPCA
Just in time for the holidays when we cat might get extra treats, and need to increase our exercise, our friends at the ASPCA  generously gave me  5 Fling-ama-Strings to giveaway to members of The Tiniest Tiger community!
Boots Adoption Story
Thank you to Helen Woodward Animal Center for sharing this wonderful story of pet adoption from their Most Heartwarming Story Contest . Boot's story was submitted by The Society to Protect Animals, an Iams Home 4 the Holidays participating organization, in 2007.
Happiness for a Blind Kitten
Imperial Cat M.A.X. Club Chair and  Scratching Ottoman is Super Stylish!
Last month I shared with you the brand new cat  club chair and scratching ottoman from Imperial Cat that I thought you would  love as much as I do.   The new Club  Chair and Scratching Ottoman for cats is super stylish and I was so excited that I placed in on my wish list.  The nice people at Imperial Cat saw my wish and sent me my very own chair and ottoman with a sleek cheetah print. And now just in time for Thanksgiving, they are offering a chair and ottoman to one of the members of our The Tiniest Tiger community.
Cats will give thanks for their own club chair
Thanksgiving is coming soon and we cats know what this means.  In addition to family, friends and feasting, it means that
our habitats will be invaded and our space will be taken over by loved ones.  And some might even stay well into our nap time and perhaps even force us to change our schedules.  I know, I understand how upsetting a change in routine can be for felines, but just in time to prevent the invasion of the chair snatchers, Imperial Cat is providing us with our very own cat sized chair and ottoman.
Mine arrived a few weeks ago and I have to tell you that I just love it.  The chair is super comfortable and when I get the urge to scratch I just cut loose and give the ottoman the works.  Another benefit is that  you will not have to fight with any friends or family members for your seat.  This chair will always be reserved with your name on it. When your chair arrives, simply direct your parents to place your chair in a strategic location where you can see but not be in the center of the commotion.
If you can't wait to see if you win, you can purchase your very own Imperial Cat Chair from their Cat Claws Catalog.
How to Enter the Giveaway
There are many  ways to enter in the Rafflecopter below. Choose as many or as few entry methods that suit you. This giveaway is open to US mailing addresses only. The giveaway ends at 12:01am ET on November 17, 2012.  Best of luck to you.
Is America a Cat Country or a Dog Country?

Across our country, one debate continues long after the election is over.  Passionate Pet Parents wonder, "Is America a Cat Country or a Dog Country?"  We cats already know this answer, but we must exercise patience and wait for our canine friends to catch on.  They can't help it they are a bit slower. They are too busy playing fetch and performing tricks for snacks to realize that cats have already taken over the country.
We cats like to tease our dog friends, but the truth is both dogs and cats give humans unconditional love, companionship, connection and a sense of purpose. Cats and dogs are also good for our human's mental, emotional and physical health. There are  studies that prove we cats and dogs too  can lower stress, blood pressure and anxiety.
For Every Vote Purina will donate $1 to Pet Partners' Veteran Programs
Early Voting Click Here
Now we can prove to the dogs that cats rule, and help support our great American heroes, our veterans at the same time!  Pet Partners' veteran programs support America's veterans, connecting them to dogs and cats so they can experience the real mental, physical and emotional benefits animals can provide.  The donation Purina will make on behalf of voters in America's Pet Debate will help fund visits to veterans from therapy animal teams.
That's why for every vote in America's Pet Debate, Purina will donate $1 to Pet Partners' veteran programs, up to $100,000.  Let's rally together and get our friends and neighbors voting to help our veterans with this  meaningful effort!
How You Can Help!
Black Cats Bring Good Luck
The Scottish believe that the random appearance of a black cat at your doorstep foreshadows prosperity. Since my mom is of Scottish descent,  she and my dad must have known that when my brother Mercy was just a tiny little kitten fending for himself in the alley behind our old house, he was going to bring joy, love and happiness into our family.
Mercy, a black cat, was born into a feral cat colony that occupied the alley behind our house. He was a  super tiny little kitten when he first popped up by the feeding rock. This was a rock hidden from the view of a mean neighbor that didn't like that my parents were feeding the alley cats.   My parents were smitten by him.  My dad said that he would jump up on top of the rock and shake his back end from side to side to keep the other cats  two to three times the size of him off the rock until he got his share of the food. My parents couldn't stand the thought of little Mercy  fending for himself in the alley, so they caught him, got  him cleaned up and off to visit the doctors at the Morris Veterinary Clinic.  Mercy was a healthy kitten and Dr. G even said that if we didn't want to keep him,  he would take him because he could already tell that he was super smart and was going to be a great cat with a sweet personality.  And Dr. G was right!