You and Your Cat in the next Iams National Advertisement
Starting today, Valentine's Day, Iams will be on the hunt for real stories from people that share their lives with a cat and or a dog. The folks at Iams want to learn about the unique bond  you share with your cat.   And, this is super exciting,  the winning family will star in Iams next national advertisement!
I told you it was super exciting!
Keep Love Strong Advertising Campaign
The  Keep Love Strong advertising campaign that began last  November  features heart-warming ads inspired by real stories. The campaign has been so well received that Iams created  this contest to find the very best Love Tails about the special connections people share with their animals.  These commercials really show the deep connection and the importance of the human animal bond.  I like them all but this is one of my favorites.
This is one of my favorites:
Here is all you have to do to enter:
Boots Adoption Story
Thank you to Helen Woodward Animal Center for sharing this wonderful story of pet adoption from their Most Heartwarming Story Contest . Boot's story was submitted by The Society to Protect Animals, an Iams Home 4 the Holidays participating organization, in 2007.
Happiness for a Blind Kitten
Dr. Raasch from Iams Answers our Readers Questions.
Some of you asked questions about cat food ingredients, proteins and other concerns you might have about your cat's nutritional requirements in our post Which Protein is Best for your Cat. Dr. Raasch from Iams  answered your questions  in a personalized video.  Our Friends Jayme and Maya's questions are addressed in the first video.
The Red Carpet Cat Emmy Event Almost Here!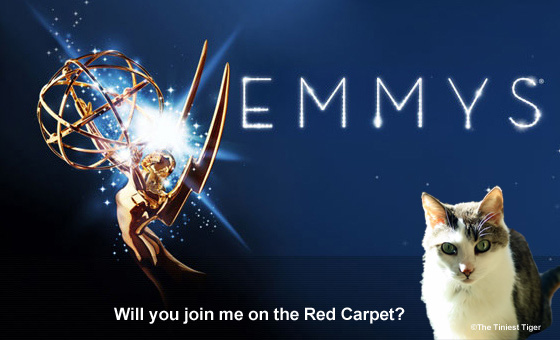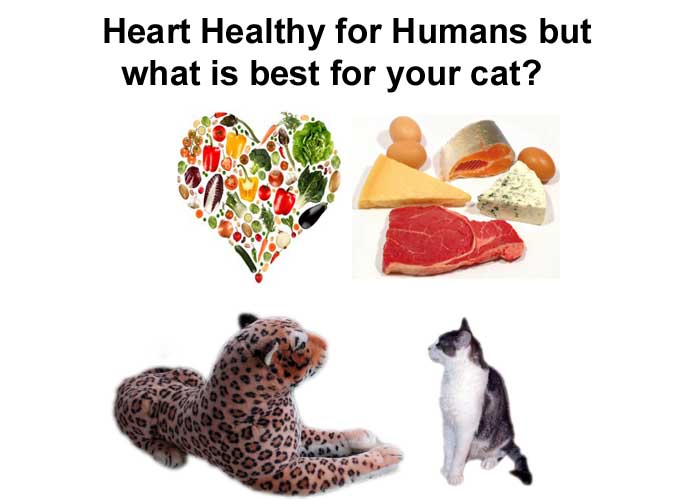 Do you wonder what protein is best for your cat?
Food trends come and go. Many humans like to mix up their diets by trying a variety of  foods and flavors.  My mom is a foodie. She has developed award winning specialty food products  and even now that she is a zoologist  she still likes to  learn about interesting new ingredients  and innovative foods.  Just ask my dad, you probably never want to go to the grocery store with her.  She really likes to  stalk the shelves for what's new.  But we cats, well we aren't concerned with pink himalayan sea salt or agnolotti with celery-root puree. We just want protein.
Cats are obligate carnivores and we need to eat protein that contains 10 specific amino acids that we can't make on our own. These essential amino acids are known as the building blocks for important biologically active compounds and proteins. If we become deficient even of just one essential amino acid, it can lead to serious health problems. Your cat's menu should be made up almost entirely of protein sources from meat.  This is why we cats are always on the prowl for the amino acids in protein.
Do you have questions about cat food ingredients?
Special Offer of FREE Tickets to Cats for Cats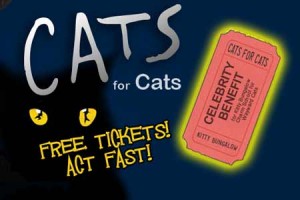 Through the generosity of Iams,  The Tiniest Tiger is able to offer a few  friends FREE tickets to a celebrity benefit performance of CATS in LA, CA at the Orpheum Theatre on Saturday, JULY 14. This  offer  lasts only as long as there are tickets available.
This event benefits Kitty Bungalow, a cat charity that runs a Kitty Charm School for wayward cats.
Because Iams was kind enough to offer these tickets and they're sponsoring the event, please only ask for the tickets if you plan to attend.
To request your tickets, leave a comment on this post, and be sure to enter a valid email address on the comment form.
Emily the cat is an Iams Play Young Stay Young Honorable Mention.
Emily is a much loved member of her family. She hasn't slowed down in the twelve years since she came to live in her forever home.  As you can see in her photo below, she keeps a watch over the house to make sure she doesn't miss any action.  The Iams team noticed Emily too and chose her  as the Iams Stay Young Play Young Honorable Mention Cat this week.
Emily's mom Roni,  from Spencer, WV says:
Emily is a calico. She runs, chases the dogs, and jumps on the table and the counter (even though she's not supposed to), chases her tale, speeds out the door (again not allowed). She hasn't slowed down since we got her, 12 years ago. She was an adult when we rescued her. She was abused by some children. She is disabled, but  that doesn't even slow her down. She's an amazing cat.  She has been with us longer than any animal that we have. I just don't know what life would be like without Emmy. And  I don't want to find out!
Hey There Delilah!
Delilah is a beautiful tiger girl with white socks and a pretty pink nose.  Delilah, who is 14 years young, earned an Honorable Mention in the Iams Senior Plus Play Young Stay Young Contest.

Here is what Delilah's pet parent Carolyn from Flower Mound, Texas has to say about her young at heart girl:
If only I had half the energy that Delilah has. One of her favorite daily activities is to take the blanket on my bed and completely wad it up by kicking her back feet.  Occasionally I catch her in the act which really embarrasses her.  I think a life-long diet of Iams has kept her in top form… plus lots of TLC.
Meet Jimmy!
Jimmy, is a bright-eyed handsome ginger cat, isn't he?  And the folks at Iams think so too because Jimmy, who is 11 years young, earned an Honorable Mention in the Iams Senior Plus Play Young Stay Young contest.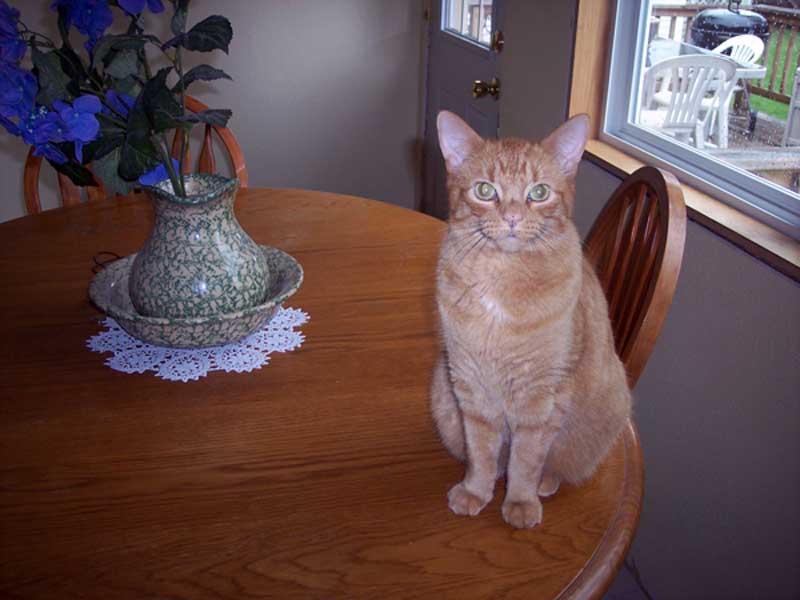 Bright-Eyed Handsome Jimmy
Here is what Jimmy's pet parent has to say about her young at heart boy:
Jimmy loves to play with my puppy Fiona,  he'll jump down in front of her and roll around taunting her until she goes after him than he jumps up high to where she can't reach him and stare at her, it's hilarious! Then at night when I'm getting ready for bed he gets all frisky and he'll hide around the corner and jump out at me, I know it's coming yet he scares me every time!
Way to go Jimmy!  I love to play hide and seek and even though my parents know I am ready to pounce on them, they squeal every time too.
Do you have a cat or dog that refuses to act their age?  If you do, why not enter them in the Play Young Stay Young Contest.
Enter your Cat or Dog for a chance to Win a Year's Supply of Iams Senior Plus!
Each week between now and June 3, 2012 the team at Iams will choose one cat and one dog 11 years of age or older that refuses to act their age. You only need to submit a current picture of your cat or dog and tell them how or why they refuse to act their age. You could win a year's supply of Iams Senior Plus!