Does Your Cat Need Project Pet Slim Down?
My parents might say a lot of things about me like; I am mischievous, talkative and smart but one thing I am not, is a fat cat.  I am the perfect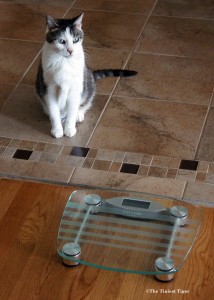 weight for my body type.   There was a time when I was a bit too thin when I was recovering from pancreatitis, but now I am wearing my 7 pounds well.  My brother Mercy, well…. ok.. he is also at a good weight for his body type.  Weighing in at 10.4 lbs. our doctors tell us he is in great shape.  He is just a bigger cat than I am, bigger boned and he really is. He is not just saying he is big boned to try to cover up the fact that he might be a bit chunky from all of those treats my grandma gives him.  But Mercy and I are in the minority of cats in the United States. Did you know that 55% of cats in the United State are overweight or obese?
In fact, it is not just cats, dogs too are overweight too even with all that in and out bathroom business and organized walking they do.  It has gotten so out of control that there is now an Association for Pet Obesity Prevention and the 2011 Pet Obesity Study found that 93 million cats and dogs are considered overweight or obese.
Friends, it is time that we all face the numbers on the scale.
Because we might need a little help getting started Purina teamed up with Target to create Project:Pet Slim Down. Purina created this online program to help your cat and dog lose weight. Cats and dogs at a healthy weight enjoy happier lives and Purina made it a mission to help every pet parent enable their cat and dog to achieve that weight.   Read the rest of this entry »
Enter your Cat Video Before May 1, 2013!
The call for entries for the Internet Cat Video Festival 2013  deadline is approaching.  Make sure you get your feline film entered ASAP! Here is the link to enter your video.  Cat Video Entry Click Here
Feline Festival Phenomenon
Remembering Mr. Collins.
Something wonderful happened when we started The Tiniest Tiger's facebook page.  We met and became friends with many people that we would not have had the opportunity to meet without the power of social media.  Our page was created to unite friends that love and care about all cats big and small.  But we don't limit our love only for cats, we care for all living beings. Read the rest of this entry »
By Joanne McGonagle
Discover Your Cat's True Nature
Even though cats outnumber dogs living within homes, cats remain thought of by many as aloof, anti-social and not needing the love and attention that dogs are given.  Cats are mistreated and sometimes maligned because  they have been misunderstood. Stereotypes about cats sadly remain firmly in place so the team at Purina One decided to dig deeper and learn about the cat's true nature and what makes a cat…a cat!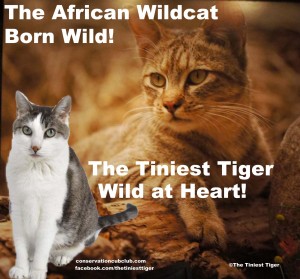 Our domestic cats roots can be traced back to the African Wildcat. So Purina One decided to go to Africa to learn more about our cats living ancestors so that we could all achieve a better understanding of what our own cats need to live their best lives.
I was thrilled to be asked by the Purina One team to join in the journey to discover the true nature of cats where we discuss and explore how to awaken, foster and nurture the natural instincts within our cat so that their lives will be enriched and in turn our own lives are better knowing that our feline family member is enjoying her life to the fullest.
I was in my final year completing my master of zoology with a focus on big cats when I first learned about the Purina One program.   I was so excited because The Tiniest Tiger children's book compares and contrasts the similarities and differences between the big cats and their domestic cousins that share our lives.
Who was your cat born to be?
9 Things I Love About Gracey
I am a cat parent!  This month Petfinder launched a campaign to help break down the stereotypes about cats and the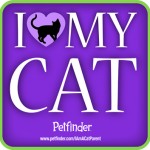 people who love them.  Even though cats outnumber dogs in the United States, feline family members are often thought of as second-class pets.  Many people still believe that cats are aloof, not able to be trained and of all things….unlovable!
I say anyone that thinks this about a cat has never shared their home with  a cat.  Our Gracey and Mercy are members of our family and we are fortunate to get to share our lives with them.  I wanted to take a moment to tell you just 9 things I love about Gracey.  Of course, there are many many more, but I thought I would start with these.
One)

Gracey's Happy Face Greeting Me at the Door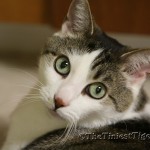 Even on the most trying of days, when my key hits the door and I see our little girl running to greet me with her tail straight up with a curl, all the day's troubles just melt away and I feel  warm and happy seeing  her sweet face.
Two)

Chatting About Her Day

First thing I do when I get inside the house is say hello to Gracey and ask her about her day and she usually has a lot to say.  Gracey is a talkative cat and I think she is telling me what happened while Paul and I were out leaving her in charge of the house.  I love to hear her tales of the day while we walk together into the kitchen.
Welcome to The Tiniest Tiger's Conservation Cub Club!
Super Hurrah for Mary!  The winner of The Tiniest Tiger Hipster!  Don't wander far, we will be hosting other exciting giveaways soon.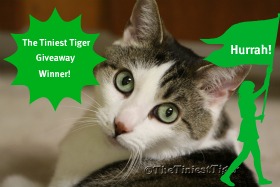 The Tiniest Tiger's Conservation Cub Club where small paws are uniting to make a big difference!

Forest Scented World Best Cat Litter Giveaway!
Congratulations to Laura, Kathy, Raine, Elena and Verna!  Thank you to everyone that participated.  We will have another great giveaway soon. xoxox Gracey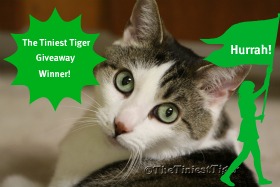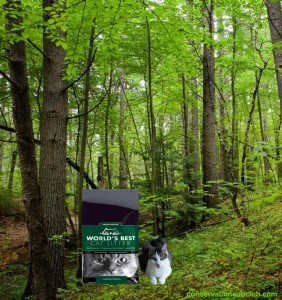 The new Forest Scented Worlds Best Cat Litter allows me to bring out my inner tiger and pretend I am in the forest.  Because all cats can be  little stinkers from time to time, cat parents are sure to appreciate the fast clumping action of this litter and the super fast absorbent quality too that stops the odor before it gets a chance to spread throughout the house.
Friskies releases Happy Wings
Friskies®  breaks the boredom for cats with  the release of "Happy Wings," its newest tablet game for cats available now at www.GamesforCats.com.  Happy Wings entertains cats with a garden full of fluttering fun, including a  hummingbird,  moth and  dragonfly.  The birds, moths and dragonflies fly across the screen attracting your cat's attention. When they capture a few of the creatures by touching them with their paw, the setting changes and the game becomes more difficult with quicker patterns and multiple birds, and bugs appearing on screen.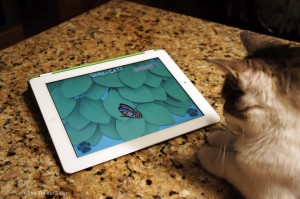 You vs. Cat
World's Best Cat Litter Introduces New Scented Formula!
Forest Scented Clumping Formula is the newest addition to the World's Best Cat Litter lineup.  Made with  100% natural wood fibers, this clumping litter is perfect for cat parents who prefer a fresh forest scent.  This natural scented clumping litter is made with a blend of wood fibers and paired with the absorbency of whole kernel corn.  You can safely eliminate the not so pleasant pet odors and simplify cleanup with the quick-clumping litter with a forest fresh scent and no synthetic chemicals or perfumes. This new formula is planet-friendly because the kiln-dried wood fibers are made of re-purposed tree shavings that might have otherwise gone to waste.
When the folks at World's Best Cat Litter asked me to help introduce the Forest scent I was more than happy to do so.  I love the smell of pine.  And I am not alone in this.  This scent was tested in more than 1,500 homes where cat parents found the Forest Scented Clumping Formula met their high expectation of World's Best Cat Litter and at the same time outperformed competing litters.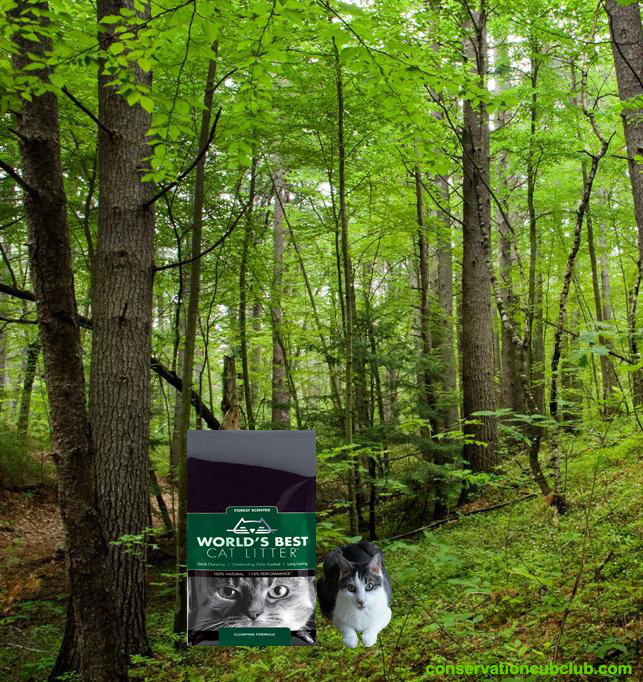 The Forest Scent Brings out my Inner Tiger
Cat Parents! Restore the Air You Breathe with CritterZone Air Purifier
Cat Parents, once in nine lives a product comes along that just blows your whiskers back and that product is the
CritterZone Air Purifier.
This compact, filterless, chemical free air purifier is a must have for cat parents.  We met William Converse, the president and inventor of the CritterZone Air Purifier recently at
Global Pet Expo
in Orlando.  William has mad skills when it come to air purification from his 30 years in the industry and he deserves top predator status for the Critterzone.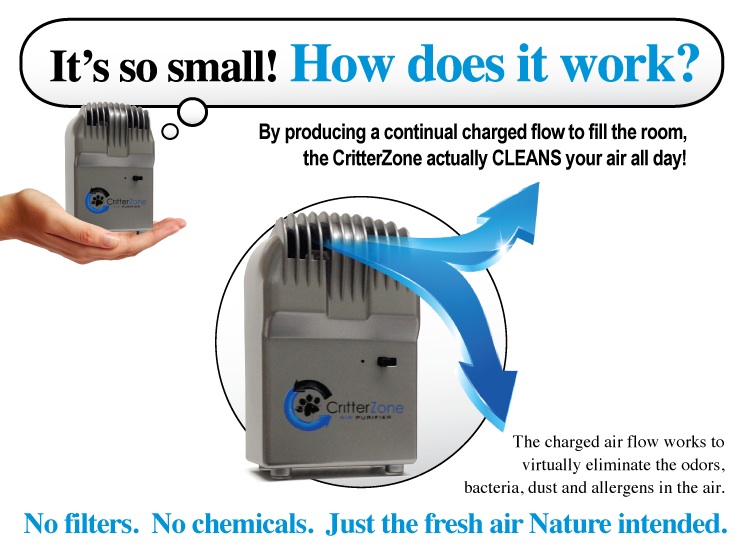 Small but Powerful