Posts Tagged 'Conservation Cub Club'
Welcome to The Tiniest Tiger's Conservation Cub Club!
Super Hurrah for Mary!  The winner of The Tiniest Tiger Hipster!  Don't wander far, we will be hosting other exciting giveaways soon.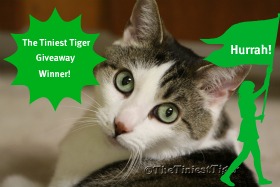 The Tiniest Tiger's Conservation Cub Club where small paws are uniting to make a big difference!

Maneki-neko is Japanese for beckoning cat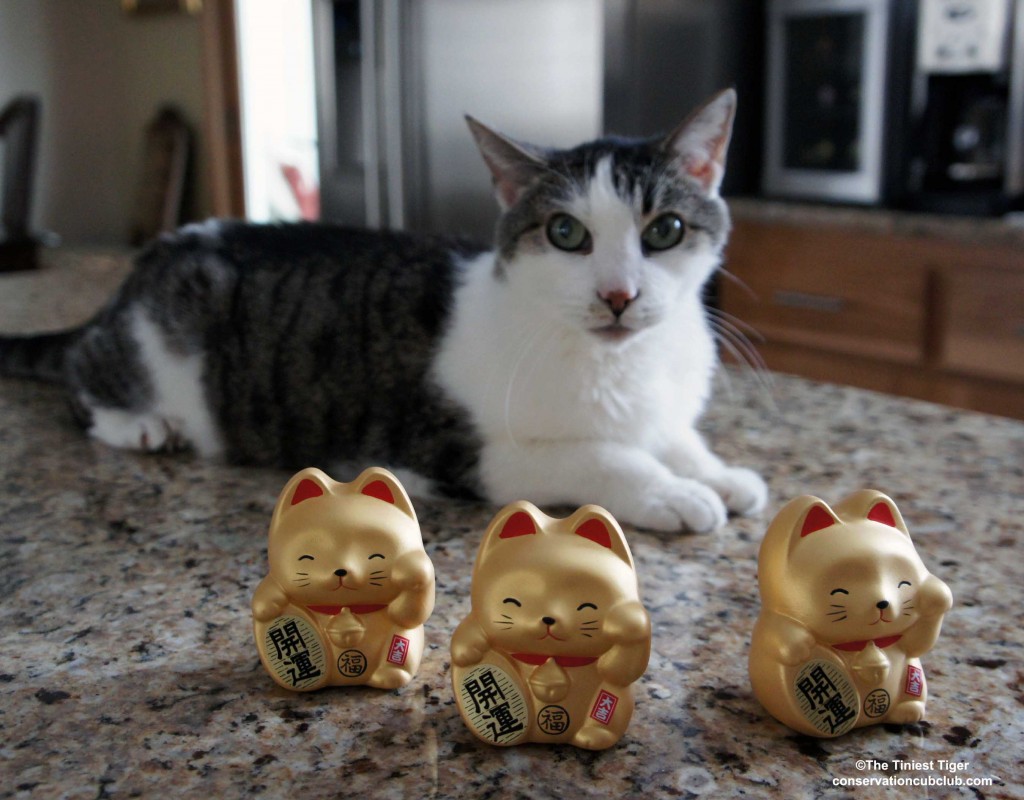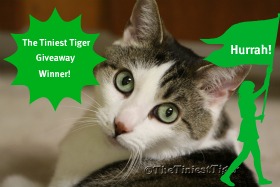 Super Hurrah to Jen, Patty and Sherrie!!  Congratulations and we hope your Maneki-Neko brings you great fortune and luck.
Meneki-neko is a popular Japanese figurine of a cute cat with an upright paw believed to bring good luck to the owner.  The figurine is usually made in the image of a calico Japanese Bobtail, beckoning with an upright paw and are on display in shops, retaurants, pachinko parlors, and many other businesses.   Sometimes Maneki-neko figurines are electric or battery operated so that they will have a paw moving back and forth. Maneki-neko is kind of like a cougar in that it is known by many names.( cougar, puma, mountain lion).  In English, Meneki-neko is called welcoming cat, lucky cat, money cat, happy cat and fortune cat.
This cute cat figurine comes is a variety of colors, styles and ornamentation but the most common colors are white, black,  gold and sometimes red.  It is thought that the white is for good luck, the black for good health and the gold for monetary good fortune.
Raised left paw attracts money
Congratulations and Super Hurrah to Amy D, the winner of the Gracey Accessories Bundle!
SUPER HURRAH!
Friends, I am excited to tell you that while I was on safari, our The Tiniest Tiger's Conservation Cub Club was nominated as a finalist for BEST CAT BLOG in the Dogtime's Pet Blog Awards.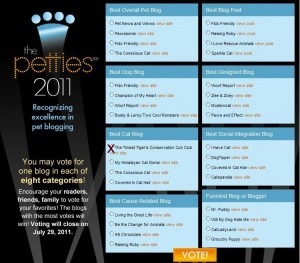 Pettie Winners will receive $1000 donation to a shelter of their choice and ours is PurrEver Ranch Sanctuary!!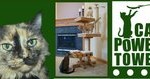 Friends, Please give a warm welcome to Pat, the  feline behind the creation of the  Cat Power Tower.
GRACEY: Pat, first I want to welcome you to our Conservation Cub Club. I am truly honored to be interviewing  a creative genius. Not only are you the Chief Feline Officer at Cat Power Tower, weren't you also instrumental in the design of the Cat Power Tower (CPT)?
PAT: The honor is mine Gracey. Yes, I had a paw in the creation of the Cat Power Tower. I started out as product inspirer, and then moved up to product tester. Now I'm actually the company's CEC (Chief Executive Cat), but I think I like Chief Feline Officer (CFO) better! It sounds more feminine and with my name being Pat, I've been mistaken as a boy by some of my Facebook friends.
GRACEY: Oh, I like that term  product inspirer!  I thought you had to be involved, because only a feline mind could create such a fantastic cat entertainment center. Ask your dad if you can have both the CEC (Chief Executive Cat) and the CFO (Chief Feline Officer) titles at Wiser Pet Products. That way you won't be giving up any power!  What first inspired you to create the Cat Power Tower?
We have returned from the Iams & Eukanuba Behind The Paw Influencer Summit and it was super interesting.  In my post earlier this month Iams and Eukanuba: Behind The Paw, many of you posted questions both here on our Conservation Cub Club and also on our The Tiniest Tiger facebook page.
There were many great questions on different topics. One topic in particular that keeps surfacing and brings  the claws out in some people is the unsubstantiated rumor that Iams & Eukanuba participate in animal cruelty. The comments almost always refer to  the same old pieced together video that was released nearly ten years ago. I want to get this out of the way in this first post so that we can move on to talk about interesting and helpful topics like feline nutrition.
I took the opportunity to post photos taken at the P&G Pet Care Health & Nutrition Center on our facebook page but I didn't say where the photos were taken.  Some of the comments were; Is it heaven?, a luxury day care facility? a golf course?  Many commented how happy and healthy the dogs and cats looked in the photos. That is what we saw too during our visit, happy, healthy pets!
So what is all the fuss about?  This is what is at the root of the rumor.
As you know, Friends of The Tiniest Tiger enthusiastically participated in the Iams Home 4 the Holidays campaign by posting comments here and by uploading photos to our The Tiniest Tiger Facebook page. You can see The Tiniest Tiger's participation and  all of the wonderful comments by clicking here.
So I was super excited when we received this nice note from our Friends at Iams;
"As the 2010 Iams Home  4 the Holidays pet adoption campaign has come to an end, we wanted to give a HUGE thank you to you and your The Tiniest Tiger's Conservation Cub Club readers for helping make this year another success! Without your support, we couldn't have saved the lives of more than 1.1 million homeless animals!
1,125,667 animals were adopted between Oct. 1 and Jan. 4 through more than 3,500 animal organizations from around the world.
Forever homes were found for:
593,146 dogs
509,470 cats
23,051 other animals
On top of that, we are happy to report that IAMS is donating 5,000,000 meals to all of the Iams Home 4 the Holidays participating animal organizations! This was all made possible through retail purchases and online engagement from animal lovers like you!"
Friends we can be super proud that we united our paws and provided 32,375 MEALS for our Cousins in Need!
Super Hurrah!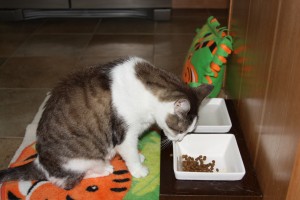 Now as you know, we don't only eat around the holidays, we need to eat every day. And eating is an important part of any Cat's life.  In order for us to stay healthy and mischievous, we need proper nutrition.
Our Friends at Iams told me  a  national survey[1] revealed that only 10 percent of U.S. pet owners take the age of a cat or dog into consideration when determining which formula to feed their pet. So Iams is encouraging Americans to make 2011 a healthier year by feeding pets a life stage specific diet, like Iams Premium Protection.
I need to follow a low allergy diet and I also have diabetes, so my parents are super careful about my meals and snacks.  Sometimes too careful if you ask me, but I know it is for my own good. But this got me to wondering how many of my Friends also eat a special diet and/or for specific health concerns or for your age?
Then I wondered how we decide which food, when and why!  Dr. Katy Nelson, DVM explains in the following videos:
For Kittens: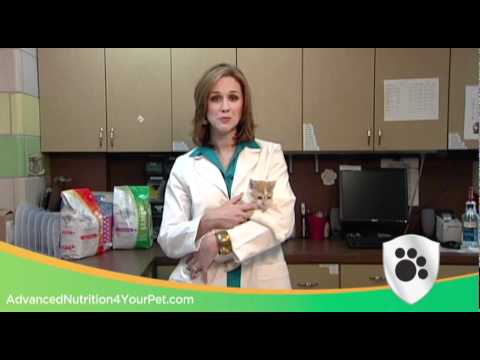 For Young Cats and Dogs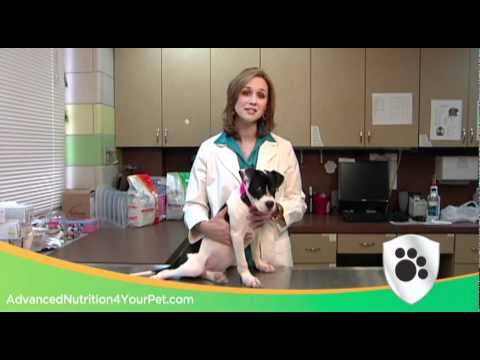 For Mature Cats: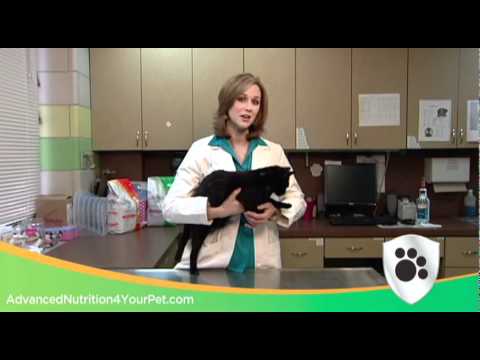 Whoa! Didn't that Cat look just like my cousin Mercy?  But he isn't mature in his eating or behavior.  hahahahaha.  Seriously, this is both interesting and important.
The new year is when our pet parents talk about getting themselves in better shape by following a healthier diet.  Maybe it is time that we do the same.
I am super curious now and am wondering, do you  eat age appropriate?   If you don't now, do you think you might make a change?
[1]Online survey conducted among nationally representative sample of 1,006 randomly-selected adults aged 18 and over residing in the U.S. via Ipsos' U.S. Online Express Omnibus. Survey was completed October 22-25, 2010. Margin of error +/-3%.
UPDATE!
Friends! I am super excited to introduce you to my new Friend!  He was sent to me as a thnk you for supporting  The Columbus Zoo's Amur Tigers
I named him Cubby!  Isn't he cute?
His papers said he is from the Wild Republic!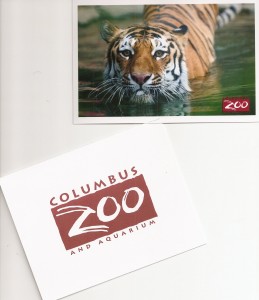 Friends, I am thrilled to tell you that The Tiniest Tiger's  Conservation Cub Club is the adoptive Friend of the AMUR TIGERS living at the Columbus Zoo and Aquarium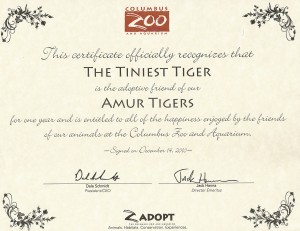 Proceeds from the sale of The Tiniest Tiger enable us to support the
Columbus Zoo and Aquaruim's Tiger Conservation program.
Thank you to everyone of you for helping all cats both big and small.
Super Hurrah!
Friends, I am super excited to tell you that our Conservation Cub Club has just sponsored Bianca, a Tiger at Tiger Haven. Your support by purchasing great products you need from  Gracey's Avon for Animals enabled our The Tiniest Tiger's Conservation Cub Club to sponsor Bianca!  I thought that it was appropriate that the purchases of Avon's beauty products helped us  sponsor Bianca the Beautiful!

Tiger Haven depends on the kindness and generosity  of others to keep our rescued big cousins healthy, comfortable and their chow bowls filled. Sponsoring a rescued Great Cat for one year helps provide the special care our big cousins need!
Super Hurrah!