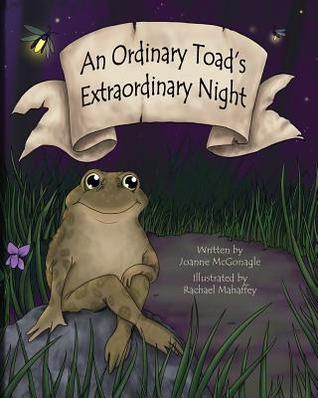 Signed and personalized copies for only $15.00
$10.00 
Hop on this Order Now Button!
An Ordinary Toad's Extraordinary Night is the story of a young toad named Andrew, pondering whether his life would be more interesting had he been hatched a frog. Andrew embarks on his first solo hop to ask his grandpa some questions about what it means to be an amphibian. The story is blended with factual information that compares and contrasts the similarities and differences among toads and frogs. A young reader's curiosity will be piqued as they consider the unique attributes of the individual creatures that make up a species, perhaps sparking the light of conservation in their hearts and minds.
 Adonnis Goldstein, US Geological Survey:

"Andrew, a small toad, thinks his life would be more exciting as a frog than an ordinary toad. During his journey to visit his grandfather, Andrew meets a number of woodland creatures. With each encounter, Andrew discovers that he is not an ordinary toad, but an extraordinary animal, with many characteristics that set him apart from the bullfrogs that love to tease him. He learns from his grandfather, a wise toad, that every creature on the Earth is extraordinary in their own way. The story includes facts about amphibians and their way of life. But what the story tells is that everyone is extraordinary in their own special way. It teaches us to find the best in ourselves and to love ourselves for who we are.

I love frogs and toads and being serenaded by the music they produce. I truly enjoyed reading about Andrew and his adventures. After reading this story, I felt extraordinary. I love that the author tells a story while letting children (and adults) know that being yourself is important and be proud of your special and unique characteristics.

I work at the U.S. Geological Survey where I conduct tours with school aged children about amphibians. I recommend this book to parents and teachers alike."



A special offer to members of our
The Tiniest Tiger Conservation Cub Club!
Signed and personalized copies for only $15.00