Distinctive Lions Will Live Better Lives Thanks to Genetic Testing
Scientists thought there was something different about the  fifteen lions living in the rundown Addis Ababa Lion Zoo.  The male lions living in the Ethiopian zoo have large, dark brown manes that extend down their chests through their front legs, down their backs below
their shoulders and the length of their belly through the groin. These male lions are also smaller in body size than their cousins from eastern and southern Africa.  These distinguishing features  in the Addis Ababa Lions made the biologists think this group of lions are  distinctive, and in fact, made them wonder if they could  be the relatives of an extinct lion subspecies.
It had been speculated that the Addis Ababa lions might be the last pure relatives of North African Barbary lions or South African Cape lions, both subspecies now extinct. Or could these 15 lions be a completely genetically distinctive population of lion?
The lions are descended from a private collection of the last Ethiopian ruler, Emperor Haile Selassie, who captured their ancestors from the wild and brought them to his palaces in the 1940′s.  Today, these lions live in the same holding pens as the first lions captured, only now the  zoo is in poor condition and the lions are lacking proper nutrition, and inadequate space.
Addis Lion zookeepers became so overwhelmed caring for the lions that they reached out to their German "sister city" Leipzig, for help. Vets from the Leipzig zoo traveled to Ethiopia to check the health status of the lions.  While examining the lions, a team of vets took blood samples for genetic investigations  for an international breeding program in case the results confirmed these lions are their own subspecies or perhaps their own genetic construction.
by Joanne McGonagle
Richard Turere's "Lion Lights" Save Lives
Richard Turere is a young Maasai boy of 13, whose family lives  on the edge of Nairobi National Park, in Kenya. As is common among the
Maasai, Richard took over the responsibility for herding and safeguarding his family's livestock when he was only 9 years old.  One of the threats to his family's cattle, sheep and goats is the presence of African lions when they wander out of Nairobi National Park following the path of zebra and other prey animals searching for savannah grasses.
Richard grew up hating lions because at night, lions would sneak in and kill the family's livestock while the boy was sleeping.  Determined to protect the families valuable livestock, Richard knew he had to think of a way to help him protect his animals from lion attacks.
Richard first built a fire, but realized even though the lions are afraid of fire, they were not afraid to go around the fire and snatch up a meal and in fact their path was made easier by the light of the fire.  Richard then tried to place a scarecrow to fool the lions into thinking that he was guarding his cattle, but this only worked for one night. Richard said, the lions are very clever, so when they returned the second night, they must have realized this scarecrow is not moving and so were no longer intimidated.
Male and Female Lions Hunt Using Different Strategies
I t has long been thought that male lions did not hunt, but rather were dependent on the lioness's hunting prowess to sustain the pride. A study  recently published in the March 2013 issue of Animal Behaviour discusses how researchers used airborne  Light Detection and Ranging (LDAR) measurements of vegetation  structure in Kruger National Park, and combined a global positioning system (GPS) telemetry data on lion kills to quantify lines-of-sight where lion kills occurred as compared to where lions rested. What they found was significant differences in use of vegetation structure by male and female lions during hunts.
Males Ambush and Females Work as Team
The African Lion needs our help.
Hope for Lions through Protection
Some of you might remember when we talked about The African Lion Hope through Protection last year. If so, you might remember that on March 1, 2011, an alliance of wildlife protection and conservation groups petitioned the Secretary of the Interior to list the African lion as an endangered subspecies pursuant to the United States Endangered Species Act (ESA). These groups included Born Free USA and Born Free Foundation, Defenders of Wildlife, The Fund for Animals, Humane Society International and The Humane Society of the United States and the International Fund for Animal Welfare.
The USA is the world's largest importer of sport-hunted African Lion trophies
The United States is the world's largest importer of African lion parts, for hunting trophies and for commercial use.  From 1999 and 2008, 7090 lions from a wild source were traded internationally for recreational hunting purposes.  Most of these lions, 64% of the total, were imported to the United States. Even though there has been a continuous population and range decline for the lion, the United States lion trophy imports have increased.  Imports in 2008 were larger than any other year in the decade and twice the 1999 number.  The Endangered Species Listing would make a significant difference to crackdown the trophy trade.  A listing under the ESA would put strict controls on the import of lion "trophies" by Americans, and would ban the commercial trade of lion parts in the United States.
African Lions are the ONLY big cat not protected under the U.S. Endangered Species Act!
On November 26, 2012, the U.S. government issued a favorable finding that a listing may be warranted, but before making a final decision, they've allowed for a 60 day public comment period. They want to hear from you.  African lions are the only big cat not protected under the U.S. Endangered Species Act.
Take Action! Please add your signature and comment in favor of the ESA listing for the African Lion now!
CLICK HERE TO ADD YOUR NAME AND COMMENT!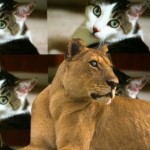 This morning I was  a cat in a little bit of trouble when I threw a hissing fit about getting my blood glucose tested. Most days I just take getting my ear pricked in stride, but there are those days, and today was one of them, that I just didn't feel like being tested.  I admit that I behaved badly.  To make matters worse, today it is raining and it is supposed to keep raining all day.
I needed a project to keep me busy and out of trouble.  So Bad Kitty and I watched  The Last Lions film again.  Did you know that if you watch The Last Lions trailer on You Tube that National Geographic will contribute $.10 for each viewing up to one million views?  Here is the trailer.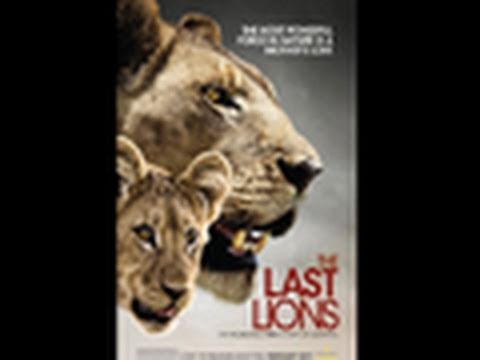 I loved this film for many reasons.  To read my review of The Last Lions, click here.