Circuses End Performing Lions and Tigers in the United Kingdom
Big changes are underway under the Big Top in the United Kingdom.  Traveling circuses have started their season but for the first time no circus will be entertaining the crowd with performing big cats.  The Great British Circus was the last show to feature tigers doing tricks and they sent their cats to an operator in Ireland just in time before the new animal welfare regulations became active last month.
The Victorian era ushered in circuses with performing elephants, lions and tigers on tour.  The last time  the circuses toured  without exotic animals was around 1768 when the first modern circus entertained the spectators with horses and riders performing daring feats.  Wild animals did not debut in the circus until after the British empire expanded in the 19th century.  Wild animals were captured and brought back to be put on display at a time when the average person had little chance of seeing a live lion, tiger or elephant let alone watch them performing tricks.
Over the last couple hundred years, our world is a very different place.  We have access to learning about and seeing lions, tigers and elephants from many sources, whether that be a zoological park, a sanctuary, learning via the internet or nature programs on television.  We also know more about the big cats that share our world and most people are concerned about how they are treated and find physical abuse unacceptable in modern society.
Happy Mother's Day!
Sometimes it is easy to take for granted all the things that our mother's do for us. On this day, I thought I would share with you just a few things mothers do for us for which we are grateful whether we are lions, tigers, house cats or humans.
Mothers Guide Us Down the Right Path
There are many paths to choose from while we learn our way in the world.  Mothers do their best to guide us down the right path.  It is up to us to listen.
Lions, Tigers, Bears and Elephants Need You Now!
Part Two
Friends, our big cat cousins as well as bears, elephants and other animals need us to speak out for them. Right now in the United States House of Representatives there is a bill H.R. 3359, the Traveling Exotic Animal Protection Act.  H.R. 3359 is focused and a great step in the right direction to protect animals used for amusement.  We need to speak up and be heard to stop the abuse of our fellow living beings.
Contact your Member of Congress to Support the Traveling Exotic Animal Protection Act
There are tigers living on top of the world and this is terrific news.  Wild tiger populations are dwindling and there
has not been much good news to report about any of the remaining 5 subspecies of tigers that share our world, but recently a "lost" population of tigers has been filmed living at a higher altitude in the Himalayas than was previously thought that tigers could survive.
Tigers have been known to live in the Himalayan foothills of Bhutan, but when Bhutanese villagers reported that tigers were living as high as 13,000 ft (4000 m), Dr. Alan Rabinowitz, the President of Panthera,  decided to  investigate.   Dr. Rabinowitz, along with BBC Wildlife cameraman Gordon Buchanan travelled to Bhutan in search of the mountain tigers.  After treking up the mountain, Buchanan set up a series of camera traps that would capture any animal that passed by.  The Panthera team left camera traps as high as 4100 meters, a level where trees begin to struggle for survival.
Three months later, Gordon returned to his camera traps to see what animals had passed by. Incredibly, the cameras shot footage of two wild tigers, one male and one female.  These images are the first known footage of tigers in the remote mountains of Bhutan and the first concrete evidence that tigers are capable of living at that altitude. This is the only place on earth known to have tigers, leopards and snow leopards all sharing the same valley.
My mom and I had the privilege of talking tiger with Jackson Galaxy, the Cat Behaviorist and the Host of the Animal Planet series, My Cat From Hell. Jackson's love for cats goes back to his childhood days when he was enamored of the big cats. Who doesn't admire the strength and stealth of the tiger as well as the independence yet
connection to the pride of the lion?  His love for the feline family stayed with him into adulthood and we agreed, that in our opinions, the wildness inside each and every cat is the reason for the fascination, admiration and attraction by humans towards the domestic felines that share their lives.
Those that have feline family members sharing their home know that the feline-human bond is quite similar to the human-human bond, because the relationship is a connectedness that is based on love, respect, and compromise.  Cats are intelligent and willful beings that refuse to be ruled. To successfully change what one thinks is a cat's undesirable behavior, the human must first understand that a cat is just doing what a cat does, and that the compromise will need to come from the human.
Jackson has learned from his 16 years in the cat psychology realm that in order to succeed in mending the relationships between cat parents and what is deemed a problem cat might be simple changes that cater to the cat's need to be "wild".  The very thing that attracts humans to the cat, their wildness, is often what is also  interpreted as a problem. Cats are hard-wired to hunt. They can't control this instinct.  Playful pouncing and stalking as a kitten is the preparation for survival as an adult. Cats that are  part of a human family don't need to hunt for food, but they still need to release energy and express themselves by activities that mimic the hunt.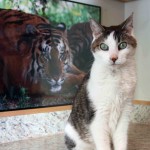 Born Free USA's third annual Keep Wildlife in the Wild Week, June 20-24 was started with the goal of taking care of wild animals not just around the world but in your own back yards!  Adam Roberts, executive vice president of Born Free USA, says the goal of Keep Wildlife in the Wild Week, is to get people to stop, think and take action.
Small steps can lead up to making a big difference. In my backyard, you might already know that we  try our best to take care of Bossy Backyard Blue Jay and all of the birds that gather and live around our habitat.  We provide food and water, and we have trees and shrubs for shelter. We are also super lucky to have squirrels, rabbits, opossum, white tail deer, the occasional raccoon and last winter there might even have been a bobcat track through our yard. We  live in an area surrounded by neighbors that love wildlife as much as we do.
What isn't so lucky is the wild tiger.  There are more wild tigers in captivity in the United States than there are in the wild.  Occupying a mere 6% of their original territory, the tiger faces the possibility of following the pug marks of the ghosts of the Balinese, Caspian and Javan subspecies into extinction. The South China subspecies is already extinct in the wild. The remaining, Amur (Siberian), Bengal, Indo-Chinese (including Malayan), and Sumatran subspecies only have an estimated 1000 breeding females in total.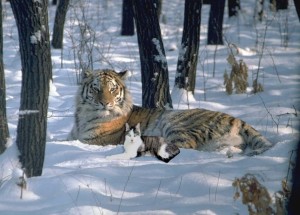 Happy The Tiniest Tiger Imitation Tuesday!
It has been a while since my last imitation. I think you will agree that I am improving all the time.  Today I am doing my best  Amur Tiger!  You might need to wear sunglasses to help you with the glare off of the snow.
The wild tiger's shrinking numbers are due to habitat loss caused by human encroachment, poaching fueled by greed, and starvation from lack of prey.  Wild tigers need plenty of room to roam and the tiger's contiguous territory is shrinking.  Human populations and economic expansion has led to the razing of tiger habitats for plantations, mines and other agriculture. Over development by humans has left the tiger population in fragmented groups, leading to smaller genetic units with limited availability of prey animals.  The tigers caught in these tiny territories are the most vulnerable to the most pressing threat; poaching.
To make matters worse, the increasing captive tiger population camouflages the severity of the wild tiger crisis. So many captive tigers estimated at over 5000 in the United States alone, may make it hard for the average person to fathom that tigers are at risk in the wild.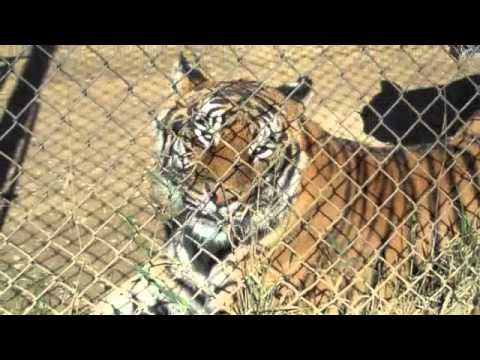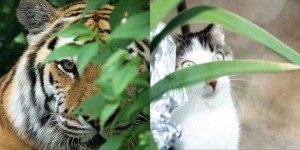 Friends, I have had some time to prepare for my latest tiger imitation.  This particular imitation took longer than usual due to the inaccessibility of the plants in my habitat.  All of the snow and rain of late, made me long for sunny days when the grass is green and the trees have leaves. One thing led to another and I now proudly present to you my Tiger Eyes through the Leaves imitation.