Cheetah Conservation Fund
The cheetah is Africa's most endangered big cat. We've lost over 90 percent of the world's population of wild cheetahs in the last 100 years, and if we don't help make changes today, we could lose the cheetah forever. As the world's leading organization dedicated to saving the cheetah in the wild the Cheetah Conservation Fund  offers a number of ways to help the cheetah win the race against extinction.
One of the ways you can help is by sponsoring one of the cheetahs that calls CCF home.  The Tiniest Tiger community is sponsoring a cheetah named Amani.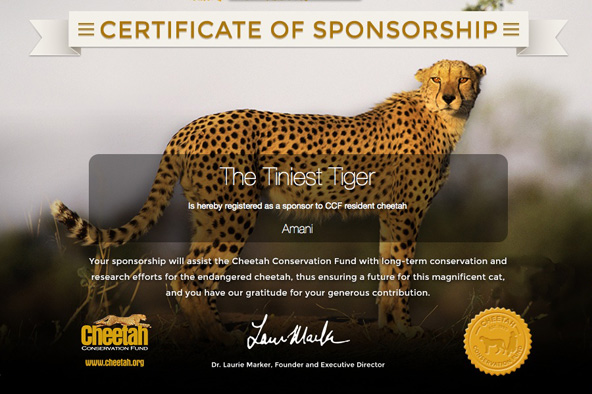 Your Cheetah Update for Amani
"One-eyed and growling, Amani would seem a dangerous cat but with the arrival of her keepers and the husbandry truck, a new cat emerges. Before feeding, she skulks along the fence with her shoulders and haunches poised for action underneath a tawny, tufty coat. She jumps at the fence, lets out a growl, but the the gate opens and the truck drives through: her hunched shoulders transform into a raised head, adorned with a single attentive eye. When the truck takes off that solitary eye does nothing to hinder her ability to chase it across the enclosure.
Over the last six months, Amani has become even more of a feisty old girl than she was before.
With only one eye, it would seem that Amani would have difficulty navigating her enclosure but this is not the case. Not only does Amani excel at making her way around, she is the best runner out of her old girls, racing after the truck as though she is young and fully sighted.  She can sometimes catch treats thrown from the back of the truck in her mouth and she doesn't struggle to find the husbandry truck if she fails to show up at the gate.  In addition, she has developed a liking for attempting to scare new interns and guests, almost as though it is a game for her.  It has been a good few months."
Meet Amani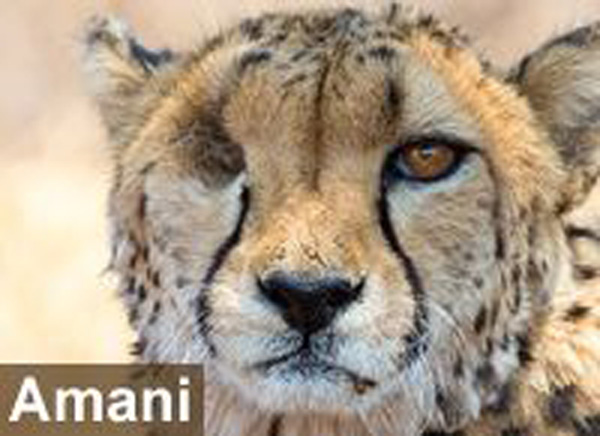 Amani, meaning Peace in Swahili, was caught by a farmer in the  Khomas Hochland area (east of Windhoek) when she was about one year old.  They do not know what happened to the rest of her family as she was far too young to be on her own.
The farmer gave the young cheetah to the Amani Lodge near Windhoek where she was kept as a companion for their tame cheetah.  The two cats never got along and after a year, it was decided that it would be better to send Amani to CCF.
Amani is a true testament to the survival of the cheetahs.  She was slow to acclimate to her new surroundings at CCF but once she found her way, she is thriving.