Heartbroken and Healing
We lost our little Gracey yesterday morning.  She passed peacefully in my arms.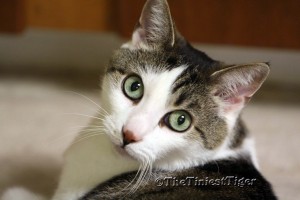 Gracey was in multiple organ failure from complications of diabetes and pancreatitis that she had been living with for a little over 4 years.  We were able to mange her diabetes with two injections of ProZinc per day and she was happy and healthy until this past week.  Her doctors are wonderful and worked super hard doing everything possible to see if we could get her strength up and she could recover but it was not to be.
Paul and I needed yesterday to grieve and to gather the strength to begin the process of celebrating her wonderful life with us.  We are so grateful that Gracey chose to share her life with us and she will live on in our efforts here on her The Tiniest Tiger's Conservation Cub Club.
When Gracey won the Bissell MVP Contest in 2010 we were thrilled to donate the $10,000 to PurrEver Ranch Sanctuary.  Rita works so hard to rescue older cats and cats with special needs, just like our Gracey.  When I told Rita about Gracey she said:
PurrEver Ranch Sanctuary's cat flap remains open. Our doors would have closed and the purrs would have ended without Gracey. That pretty little girl's heart is responsible for so many homeless unwanted cats who's hearts would have stopped beating without her help. Life simply is better because of Gracey. We live because she did. Thank you our darling Guardian Angel. We always knew she had wings.
The world didn't get darker when she passed for her little bright light shines in all of us. I love you. And I love Gracey.
Gracey was an amazing little cat. From the time we rescued her from the dog pound she showed her sweet and mischievous personality. She was the inspiration for the book The Tiniest Tiger and for us taking the journey to complete a Master of Zoology to learn more about how we could help all cats big and small. Her community has grown to over 50,000 members and she would want us to continue helping her cousins in need.
We are heartbroken.  Gracey was with us every moment of our days in our home.  Paul designed the sun room windows to be the perfect height for her to look out over the back yard where she spent her days visiting with Bossy Backyard Blue Jay in the company of Lazy Leopard.  When I was in the office, she was with me keeping me company and inspiring me.
We know that Gracey would not want us to stop the work she inspired us to begin. Leaving the hospital, a local rescue group was in the lobby talking about how they hoped their fundraiser would make enough money to buy food for the cats in their care over the weekend. As it turned out, my Jeep was full of cat food, toys and other items that I was planning to take to a shelter but hadn't made it yet.  We like to think Gracey was working her magic by us being in the right place at the right time.
When I came home and was washing up a few dishes, Bossy Backyard Blue Jay came and sat on the perch outside the kitchen window.  He had not done this before.  I chatted with him and he tilted his head and looked at me as if he understood.  Then he flew around the yard and settled in the apple tree.
There is so much we would like to say, but the sadness is too much for us right now. Gracey was and is the light of our lives. Thank you for being a part of The Tiniest Tiger community and for loving our little girl too. I hope you will join us in celebrating Gracey's life and continue on the journey to care for all cats big and small.
Joanne and Paul