A few days ago, it was three years since you've been gone. This year hit me harder than last year and I think it is because we have been clearing out our grandparents' and parents' belongings.  Every photograph brings back a memory, every item a reminder.  The work has been tedious and exhausting, more emotional than physical. Well maybe both, I am not as strong as I used to be.  Years ago, I could work fourteen hours straight and be none the worse for the wear, but now, around the seven-eight hour mark, I not only need a hot shower but a dose of precautionary ibuprofen because I know the stiff and sore muscles are coming.
While clearing out, I found a beautiful photo of my mom when she completed her nurse's training. After finding this photo, it made it easier to donate and clear other items that belonged to her.
I guess I don't write too much about my mom.  It will soon be nineteen years since we lost her.  Nineteen years. How is that possible?  This time of year, the middle of May – the first week of June, bring the reminder of the time we all knew she would lose her battle with cancer.  Mother's Day was particularly hard this year after just losing Paul's mom too.
The saying, "Time heals all wounds." is a lie.  But I concede that time stitches us up enough to go on.  Sometimes those memories surface and break our hearts all over again, but truth is, we wouldn't have it any other way.  Those memories are the love that lives on in our hearts.
You would be proud of me. I limited the number of items I brought home to a minimum.  A bench Grandpa made,  Mom's canister set, Dad's glasses he wore as a boy and a lot of photographs to sort through.  Clearing loved ones belongings is difficult, but you just have to keep reminding yourself that their spirit does not reside in those objects.  I remembered an excerpt from Mitch Albom's Tuesdays with Morrie.
"Don't cling to things, because everything is impermanent… But detachment doesn't mean you don't let the experience penetrate you. On the contrary, you let it penetrate you fully. That's how you are able to leave it…You're afraid of the pain, you're afraid of the grief… But by throwing yourself into these emotions, by allowing yourself to dive in, all the way, over your head even, you experience them fully and completely. You know what pain is. You know what love is. "
Their spirit lives on in us.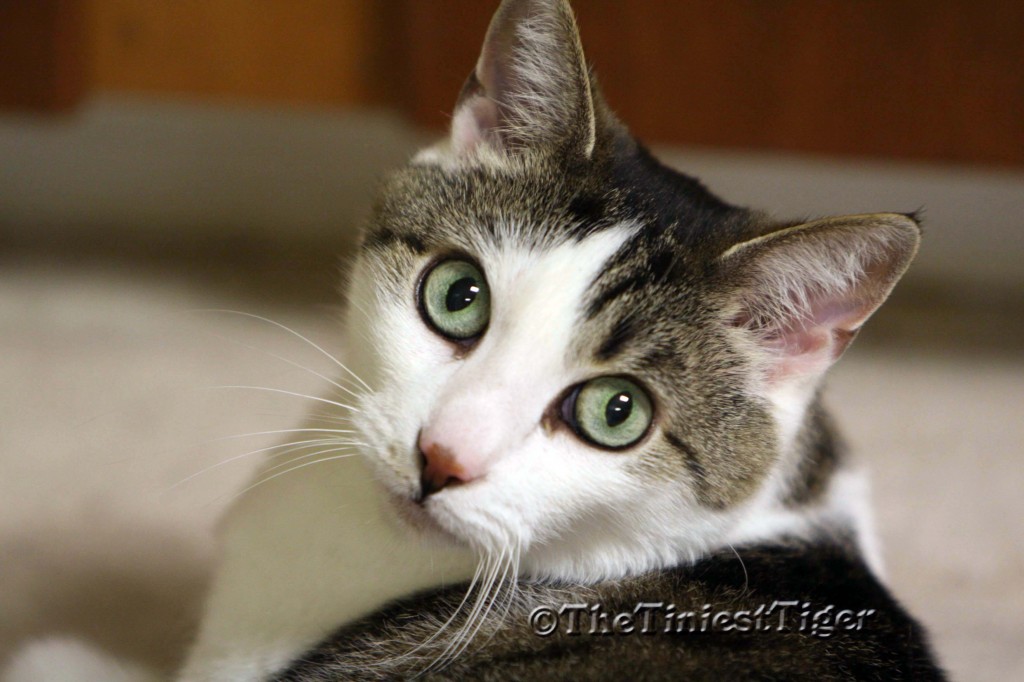 Three years.  I can't believe it has been three years.  You would be so happy to know that through the sales from Triple T Studios, we are sponsoring a Lion Guardian into the second year now.  We sponsor a Guarding Dog and Cheetah at the Cheetah Conservation Fund.  We have donated to purchase cameras for tiger and mountain lion conservation and several other conservation projects including Save the Frogs. We adopted two baby elephants at the elephant orphanage in Nairobi, not cats, but we love elephants too. Your spirit and the Conservation Cub Club live on.
It took me until today to be able to write this message to you.  I was just too out of sorts to put any words together.  Feeling heartbroken.  Early this morning I remembered another excerpt from Tuesday's With Morrie.  When Morrie talks about losing his mother over 70 years ago his eyes well up with tears.   Mitch asks  if it still hurts after all those years and Morrie replies, "You bet."
Your Dad and I are doing ok.  We think of you every day.  Thank you for sharing your life with us.